Sony Ericsson X1 Xperia review
Camera
You do not buy the X1 because of it's outstanding camera performance. The still image quality is average, but the camera interface is not good at all. X1 has a 3.2 megapixel camera with auto- and touch focus. Touch focus means that the photographer use his finger to point on a area of the display where he want the camera to focus. I am unsure about the usefulness of the touch focus. This is for sure not a function I use much. I think it is quicker to have a centre focus option where you find focus and then move the camera to the right position before taking the picture. This is my personal preference of course. On more advanced camera models it is possible to choose whether or not you want exposure lock and focus lock to be linked with the selected focus point. Sadly, X1 does not set exposure lock. Instead of touch focus, I would much rather see a face detection feature. Face detection will find correct focus automatically during framing. Photos of human faces are often taken from a short distance to the object where correct focus is more important.
X1 also has a photo light of the LED type. The light can be turned off or on. No auto setting as we can find in many other mobile phone cameras. "Light on" means the LED light assistant is on while finding correct focus in addition to lightening the environment during the actually photo capture. I would like to have the option to turn on the photo flash only. I experienced that pointing a light on people in dark environment makes them close their eye or turn their heads away.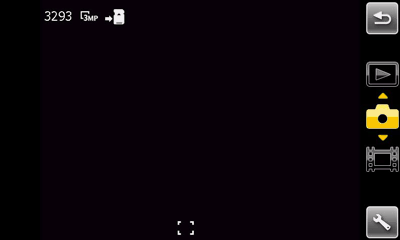 Some of the Camera configuration settings
When the camera application is running, the display backlight is turn up fully regardless of current backlight and power saving settings. This is because the screen acts as a viewfinder and you obviously need all available light to framing your composition. It not possible to change this behaviour. To save power, the camera application will automatically end when there are no user activity within approximately 2 minutes. The camera application can be started by pressing the shutter button or from within the Windows Mobile OS. Focusing can take up to 2 seconds. It depends on the camera movement and how much contrast is found in the framing area. The shutter lag are from time to time annoyingly slow and too often result in photos captured when the X1 is moved away from the framed object. This does not happen every time and I think it is related to which other applications was running. The shutter button, camera sound and actual photo capture does not sync at all.
Many of the pre-set camera options was initially not set the way I prefer. Every time I started the camera, they went back to this unwanted setting. I struggled with this for a while. The lack of user manual forced me to investigate every sub-menu to find the answer. Last tab in the settings menu luckily had a setting where the "Last used settings" could be set.
The Xperia X1 has a feature called digital zoom. I think "digital zoom" number is a marketing feature. Every manufacture does it, and it is an extra number to throw in when promoting a camera phone. Throwing in a 4x, 8x and even 16x digital zoom does nothing to improve image quality. X1 saves it's captured images in standard JPEG format. This file format compress the image file and reduce file size, but not without lowering the image quality. Doing a digital zoom (image crop) before the file is saved means the wanted part of the image is selected before throwing away any image data. But in my opinion, the quality of the images are so low on a mobile phone that it shouldn't have much to say if the editing was done prior to, or after storing the image to memory card. Digital zoom can only be applied on images with lower resolution than the maximum 3 megapixel. On 2 megapixel (MP) mode zooming range varies from 1.0x to 1.29x. 1 MP mode gives 1.0x to 2.0x zoom and VGA mode has 1.0x to 3.2x digital zoom. Using full 3 MP resolution it is not possible to zoom at all.
Still Camera features
3.2 megapixel resolution
Autofocus
Camera Light
Digital zoom
Scenes: Auto, Portrait, Landscape, Twilight, Sports, Document, Last used
Shoot modes: Normal, Multi-shot, Last used
Focus modes: Touch, Auto, Macro, Infinite, Last used
Light: Off, On
White balance: Auto, Incandescent, Fluorescent, Sunny, Cloudy
Effects: Off, Negative, Solarization, Sepia, Black & white
Widescreen: Off, On
Picture size:

Normal: 3 MP (2048x1536), 2 MP (1600 x 1200), 1 MP (1024 x 768), VGA (640x480), QVGA (320x240)
Widescreen: 3 MP (2048 x 1280), 2 MP (1600 x 992), 1 MP (1024 x 640)

Picture quality: Fine, Normal, Economy
Shutter sound: Off or 4 different sounds
Time and date: Off, On
The option to change default settings for Scene, Shoot mode and Focus
Video feature
VGA resolution (640x480), Wide-VGA* (640x400), QVGA (320x240), Wide-QVGA* (320x208)
Autofocus (before recording starts)
Frame rate: Up to 30fps
Camera Light: Off, On
Scenes: Auto, Night mode
Focus: Auto, Macro, Infinite
Shoot mode: Normal, Picture message
White balance: Auto, Incandescent, Fluorescent, Sunny, Cloudy
Effect: Off, Negative, Solarization, Sepia, Black & white
Microphone: Off, On
The option to change default settings for Scene, Shoot mode and Focus
Shared features for still and video camera
Camera source: Back camera, Front camera
Self timer: Off, 2 seconds, 10 seconds
Auto review: Off, On
Save to: Phone, Memory card
* = Sony Ericsson's definition of Wide-VGA is not consistent. They say the 640x400 video resolution is Wide-VGA (which it is not) and at the same time call the X1 display for Wide-VGA (800x480 pixels) which is defined correctly.
X1 does also have a front camera for video telephony. It is of QCIF type which has the resolution 176x144 pixels for video recording, and 320x240 for still photo. Much of the main camera settings are available for the front camera as well even though is misses autofocus and flash light.
Video quality is the best I have seen from a Sony Ericsson phone to date. VGA (640x480 pixels) resolution and up to 30 frames per second results mostly in smooth transactions. The frame rate depends on available light. Night mode will lower the frame rate down to 1.5 frames per second, and to get 30fps you will need daylight or similar brightness. The frame rate is not set by the user but are calculated and adjusted automatically by the X1.
Take a look at this 640x480 pixel 30 second long clip in 28fps:
3GP format
or
WMV format
The lens is not protected by any sliding cover. Only a thin layer of glass. The previous mobile phone I used for several months did not have a camera cover either. The glass was not very resistant on that phone and it now looks like all photos is captured in a fog. I still haven't got any scratches on the X1 glass in front of the lens, so I am hoping it will be more resistant than my earlier phones.
I wish I could brag about the still camera but I can't. As I wrote in the section introduction, image quality is acceptable, but the camera handling is not. It happen way to often that the photo was captured a long after I pressed the shutter key.
Slow camera response problem is now solved by a firmware upgrade.
More