Soon, mobiles to run on your body's energy
5 August 2004 by axxxr
You may not need to rely on batteries to charge up your MP3s and mobile phones for soon your body may become the energy source for all these gadgets.
According to The Straits Times, researchers at the National University of Singapore (NUS) and Defence Science and Technology Agency (DSTA) are working on a project to see how the body can generate electricity to run mobile devices.
According to Professor Adrian Cheok, the leader of the research team and an NUS assistant, one of the ways to turn the human body into an energy generator is to fix some piezo-electric material, in this case ceramic, on the soles of a pair of shoes.
Wearing these shoes, they claim, will produce the electricity required for transferring data from one person to another via the skin, says Cheok.
For instance, a handshake can mean an automatic exchange of business cards electronically between the handheld computers of both persons.
Through this procedure current sufficient to run portable gadgets such as radio players and watches, can be produced.
"This project was an exploratory research study which aimed to look into the feasibility of tapping the human body as a conducting medium for transmitting data. The results from the research have shown potential and we're currently assessing how we can adapt the technology and apply it in the military environment," DSTA project manager Choo Hui Wei was quoted by the paper as saying.
The researchers will now work on to harness the human power to drive the (personal area network) PAN devices and soon he human body might become another device, together with mobile phones and digital entertainment gadgets like MP3 players.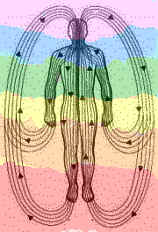 ---