Samsung Galaxy S III rumored to be just 7 mm thin
6 February 2012 by Olav Hellesø-Knutsen
Galaxy S III, Samsung's upcoming quad-core Android flagship smartphone is rumoured to be only 7 mm thin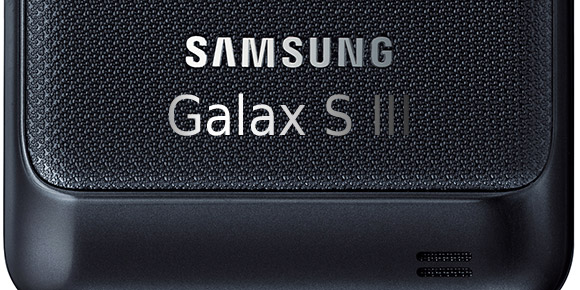 The upcoming Samsung Galaxy S III which could be announced during Mobile World Congress later this month is one of the hottest subject these days. We understand why, as this model will be one of few competing with the next generation iPhone, also scheduled to be announced later this year.
If the rumours are true about the smartphone being just 7 mm thin, it will be 0.1 mm thinner than the Motorola Droid RAZR which is the thinnest smartphone available today.
According to industry sources reported by South Korean Electronic Times News, Samsung Galaxy S III will be running on Android 4.0, have a 8 megapixel camera, HDMI, LTE and a AMOLED Plus display. Earlier rumoured specifications are hinting of a quad-core processor as well.
---
Alternatively post this in the Esato forum
Please sign in to your Esato account to leave a comment regarding this article
Phones are getting stupidly thin

why is thinner "stupid"?
as long as the body is made of material strong enough to withstand twisting, bending and other forces then the thinner the better as far as I am concerned
Because ergonomics becomes a major issue.
A few people have had issues with the Galaxy S II, and a even thinner device could be even worse for ergonomics.
can you give more details about that?
I loved the S2 and didn't find any ergonomic issue with it thickness.
To me, thin is not the issue. The issue is the build quality. I don't like to pay 500+ on a phone that is too plasticky... hence I'm using an htc amaze now. if it will be like a razr in build quality then i'm all in

I am not bothered about how thin a device is either as long as the battery can stand a good days usage.....
With the ever increasing power demanding devices like this they need bigger batteries. Why does it need to be so skinny anyway?? Yes as long as build is good but recently in Samsung's phones it is not the case. Build is so light and plasticky it just feels like a cheap toy. Not what you'd expect from a premium device. Samsung make great phones inside but they need to take a note out of Motorola's book. I bet this will be same plastic again to keep costs down. I did not like how the GS2 felt in my hands something a few mm thicker is better for me. Personally,I would rather see some extra thickness & some lens pretection
_________________
Material things don't matter,but Rock n Roll does!!!!
[ This Message was edited by: Bonovox on 2012-02-06 18:43 ]
I think that the new droid maxx getting a 3300 mAh battery in a 9mm form factor suggests that batteries will be improving in other models soon, so hopefully that will answer your first concern.
I did like the SGS2 feel, its very tactile. Sure it is plasticy and flimsy when you pulled the back off, but when it is all together it feels rock solid. I guess that keeps the weight down as well as the cost.
I hope the SG III is made of Glass like iphone now that would make it look and feel amazing.
As long as it ain't like the Arc/Arc S. When I had the Arc the plastics alarmed me it literally flexed in my hands

It's why I do like the Xperia Ray now,it's slim but not too skinny & had metal around the frame making it more sturdy. Samsung did so well with it's Bada phones the build is amazingly solid with full metal jacket I just don't know why they don't do that with their premium Android devices

As for battery yes I forgot about that Motorola one that is pure genius
[ This Message was edited by: Bonovox on 2012-02-06 19:18 ]
I love how my GS2 feels in hand, if they make the GS3 just as lite and 7mm thin id like that, not bothered by the plastic build of my GS2.
The SGS2 feels good in hand and i am posting using mines right now. From the looks of it online with the back cover in hands i thought it would feel cheap and plasticky. It really does not feel that way in real life though.
I think we need to hold the new SGS3 in hand first before passing judgement on its ergonomics and quality.
Having said that I do think that Samsung needs to come up with nicer designs for their phones and tweak their software so that they stand out more.
Apple's designs have always stood out and look like they put plenty of time, effort and money into those two critical items.
If you add glass you increase the weight of the phone. Make it from mostly plastic weight goes down but quality might suffer.
Samsung seems to be going for thinnest and lightest.
They won't install a camera button it, but imagine handling a 7mm device to shoot a photo!! Even without the camera button it'd still be an ugly experience..
It's simply not comfortable..
As far as I know and experienced the build quality on the GSII is very good.. Actually top notch!!
But the light weight is again another factor that doesn't make the handling of the phone smooth!! When I hold a GSII it really feels like one of those dummy phones made for display!! A toy! Even if the build quality if all right, why make it that much light? What's the benefit? Not like my hand will get tired from those extra 50 grams at the end of the day!!
But I don't the light weight is due to thinness.. It's due to the material used..
Hope they sort these two factors out.. And innovate for a new design and some new hardware features instead of these meaningless "thin and light" marketing campaigns..
And personally I think that they are at the point where they need not go lighter or thinner.
It would be a mistake to reduce the thickness and keep the same plastic build, the phone will slip out of your hand constantly. I really don't like the plastic build of the S2 in the first place (I couldn't use it without the case attached cos it feels so greasy/glossy in the hand) but if they made it thinner without improving material quality then it would be a downgrade.
I know they're doing it to keep the phone light, but they should be using better plastic or even metal. The HTC Sensation has much much better build quality than the S2.
What I want from the Galaxy S3:
- High res display - 300+ ppi
- Better build quality - lightweight grippy, durable plastic/metal alloy
About the ergonomics issue - i think the width of the phone is more of an issue than the slimness, more people seem to think that thinner = better but dont like the fact that the phone is really wide so hard to hold in the hand. I dont find it an issue though
Oh yes, 300+ PPI is a must for the display but I don't see how they are going to change the material from plastic to metal/glass and keep the weight although I would prefer another I want metal/glass.

I'm not a fan of the bendy form factor but that is sure to be a rumour, would be very suprised if it actually came through
@skblakee
Yeah, its just not the same as the iPhone 4 display, I have to zoom in on Esato news articles to read them. I loved being able to read a whole page in desktop layout with Retina display.
I agree with you that they will probably stick with the same old plastic they are using atm so they can market the phone as 'the slimmest and lightest phone on the planet. "
Titanium alloy and it would be perfect

Is this the Samsung Galaxy S III?

That looks horribly fake and a terrible version of an Apple / Samsung love child.
---