Photo messaging climbs as camera phones snap up market share
9 September 2006 by axxxr
Camera phone ownership and usage is climbing across the U.S. and Europe.

With summer vacations in full swing in America, photo messaging has increased 32 percent since February, while in Europe, it has increased 20 percent in France and 16 percent in the United Kingdom, while remaining steady in Germany, where 19 percent of mobile phone subscribers used photo messaging in June.
"At 50.7percent, the number of mobile subscribers in France, Germany, the United Kingdom and the United States owning camera phones has grown 22 percent since February of this year," said Mark Donovan, vice president and senior analyst, M:Metrics. "We also see a direct correlation between camera resolution and propensity to use photo messaging, as 44.3 percent of subscribers who own phones with cameras with resolutions exceeding one mega-pixel sent a photo over the network, versus a global average of 30.5 percent."
The RAZR is the popular camera-phone in the United Kingdom and the United States, while the Nokia 6230 tops the German market and the Sagem my X-5 is the camera-phone of choice among the French. However, in terms of conversion rate, meaning those who use their camera phones to generate revenue for their operator by sending a photo on the network, the top devices are the Nokia 6630 in France, the Nokia 6280 in Germany, the Nokia 6111 in the United Kingdom and the Danger Sidekick II in the United States.
M:Metrics applies trusted media measurement methodologies to assess the audience for mobile content and applications. As the world's most authoritative mobile market measurement firm, M:Metrics delivers the most accurate mobile market metrics through the largest monthly survey of mobile subscribers in the U.S., U.K., Germany and France, as well as automated data collection methodologies. Below are the findings of its June Benchmark Survey. www.mmetrics.com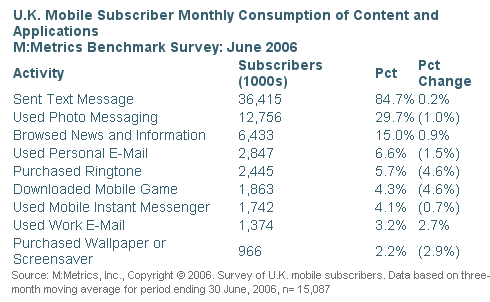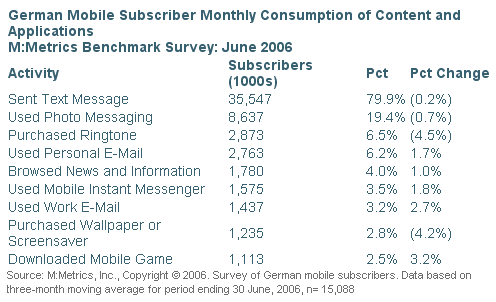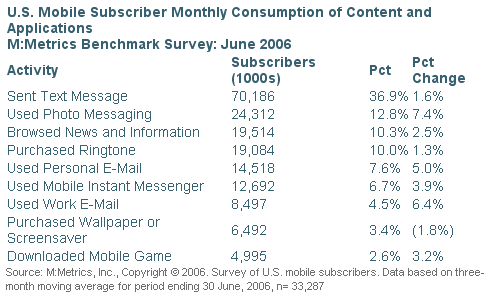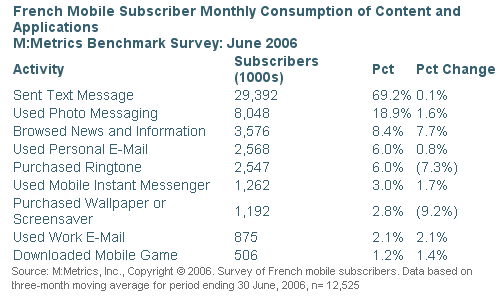 ---