Nokia milestone with 1.5 billion Series 40 handsets sold
25 January 2012 by Olav Hellesø-Knutsen
Nokia handset number 1.5 billion running Series 40 operating system was sold to a 21 year old female Brazilian customer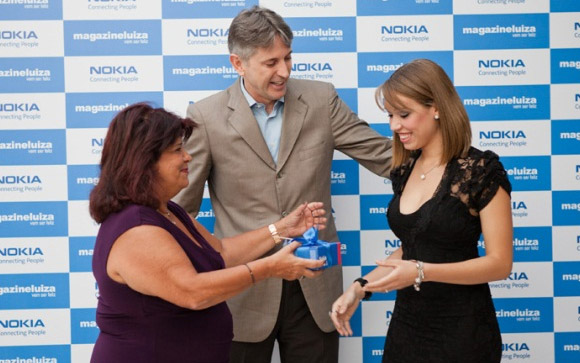 It is not important to know the gender of the milestone buyer, but is always nice to use an article illustration photo of a beautiful Brazilian woman instead of the shiny smartphone displays we usually post.
The 21-years-old Mrs Mayara Rodrigues was planning to get a Nokia C2, but she was ugraded with a free Asha 303 from Nokia when they decided she should be celebrated as the customer buying Series 40 handset number 1.5 billion.
Mayara did some research before entering the local Nokia store because she wanted the phone which would be easy to use, affordable and offer good music and photo editing possibilities. Her choice was a Nokia C2, but she was handed over a free Asha 303 by the Vice president of Nokia Brazil instead. She went home and changed to one of her finest dresses before going back to the store for a photo shoot.
Series 40 is one of Nokia's success stories. The operating system was introduced with the Nokia 7110 in 1999 but it has of course evolved beyond recognition since then. Nokia claims that 1.3 billion people world-wide uses a Nokia today and 1 million customers buy a Series 40 phone each day.
The future of Series 40 is unknown. We know that Nokia not will be able to sell "the next billion" of Windows Phones 7 smartphones. They will have to provide cheaper alternatives to the 3.2 billion people not owing a mobile phone. This is where Series 40 fits in. We also know that Nokia is working on the Meltemi OS for feature phones as well the continuous development of the Smarterphone OS.
Again, this is Mrs Mayara Luize from Sao Paulo, Brazil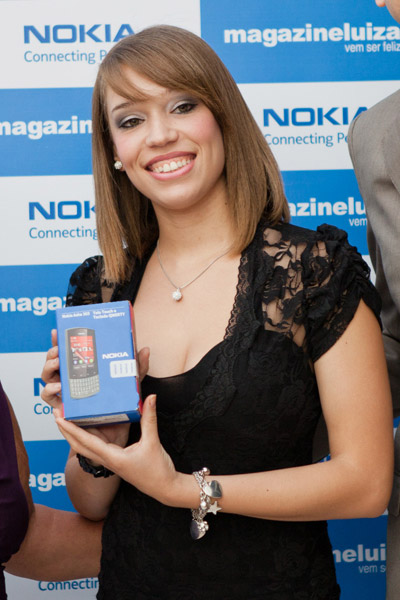 ---
Alternatively post this in the Esato forum
Please sign in to your Esato account to leave a comment regarding this article
Only 21?
And you'd think they'd bump her up to a lumia or something as well as the S40.
who says nobody bumped her?

lol.
Now then!

If it were up to me, i'd have bumped her to what she deserved.
Anyway she was probably just some local model who was paid to be the face of this title.
---