Nokia Lumia 510 Windows Phone 7.5 smartphone announced
23 October 2012 by Olav Hellesø-Knutsen
Nokia today announced the Nokia Lumia 510. An entry-level Windows Phone 7.5 with a 4-inch touch screen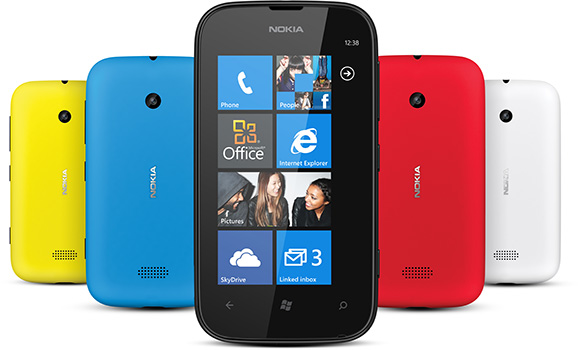 Nokia today unveiled the Nokia Lumia 510 smartphone running Windows Phone 7.5. The Lumia 510 is a 4-inch entry-level smartphone with limited features. Among other things, it has only 4 GB internal storage and no memory card slot. You will get 7 GB free SkyDrive storage but in our opinion, that does not compensate for the lack of internal storage. Other features that differentiate this model from the high-end Lumia 920 and Lumia 820 is the lack of NFC, the 256 MB RAM, Windows Phone 7.5 (Lumia 920 and 820 runs Windows 8).
Nokia has not revealed which processor the Lumia 510 is powered by except that it is a Qualcomm S1 chipset. We are guessing it has a 800 MHz MSM7625A or 800 MHz MSM7225A. If that is correct, the GPU should be an Adreno 200.
Lumia 510 has a 4-inch TFT capacitive touch screen with a 480 x 800 pixel resolution. The camera will capture photos up to 5 megapixels and Nokia has been smart enough to add a dedicated camera key.
India and China is the first countries where the Lumia 510 will be available. The price is expected to be $199 SIM-free which rank the Lumia 510 as one of the cheapest Windows Phone 7.5 models available.
Nokia Lumia 510 highlights
Weight: 129 gram
Size: 120.7 x 64.9 x 11.5 mm
4-inch TFT touch display, 480 x 800 pixel resolution
Networks

GSM/EDGE 850/900/1800/1900, UMTS/HSPA 900/2100
GSM/EDGE 850/900/1800/1900, UMTS/HSPA 850/1900

Wi-Fi b/g/n
Bluetooth 2.1
microUSB
A-GPS
5 megapixel camera, autofocus, 4x digital zoom, 28 mm lens, f/2.4, geo tagging, face recognition
VGA video capture @30fps, video stabilization
3.5 mm audio jack
256 MB RAM. 4 GB internal storage. No memory card slot
1300 mAh battery. Removable
Standby time: 738 hours
Talk time: 6.2 hours
Windows Phone 7.5 Mango operating system
Nokia Maps and Nokia Drive
---
Alternatively post this in the Esato forum
Please sign in to your Esato account to leave a comment regarding this article
Seems weird to release a Windows 7.5 phone with Windows Phone 8 about to be released, although that doesnt stop Sony releasing phones with old software.
A LED flash is so nice. Why don't they include one? It has a decent camera. They had to include the LED. But the phone is ok. For its price it almost a perfect phone.
Cheap low end for China and south America. The one thing Nokia should not have done is the really low internal memory.
Well, I agree with you. Not having an expansion slot is quite a down. But I assume people will have everything in the cloud.
Well it could only have an expansion slot if it was Windows 8. They could have put it Windows 7.8 at least but I did read that Nokia will still release the odd cheap Windows phone for emerging markets. They should have at least put in 8 gig like the 610 & 710. Oh well I'll be buying the 820 or 920 anyway depending on funds

How could they've put WP7.8 in when that's not out yet ?

Marly, it says 7.5 or am I missing something?
That was me I said why not ship it with 7.8 but I wasn't thinking that 7.8 ain't out yet

Oops. Didn't read your post.
---