New Samsung Desire could be announced on September 1st
20 August 2011 by Olav Hellesø-Knutsen
It is going to be a busy first day of September. HTC will most likely introduce a couple of new mobile phones and now it turns out that Samsung could be announcing a new Desire model as well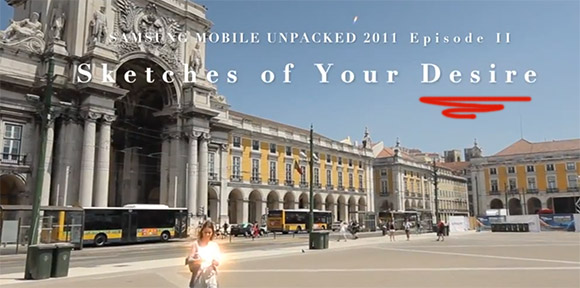 September 1st is going to be an interesting day. HTC are most likely having something new on display and now it looks like Samsung Mobile has something for us as well. A new teaser video from Samsung Mobile could indicate that a new Desire is on its way. Samsungs YouTube channel has released a new video teaser indicating that a new mobile phone will be announced. We do not see the acctual device itself but a clue in the video is the text "Sketches of Your Desire". Is this a clue that Samsung is about to announce a Desire model?
It is the second video tease, but it is the first one giving some clues of a Samsung Desire model. It is Guerilla marketing at its best.
If a Samsung Desire is on its way, it has a big screen. Thats the second clue found in the video. Is it the 5.3 inch smartphone we have heard of earlier? Well, we will know in 12 days.

IFA in Berlin, Germany is a global trade show for consumer electronic with 235.000 visitors last year. The trade show opens on September 2nd.
---
Alternatively post this in the Esato forum
Please sign in to your Esato account to leave a comment regarding this article
5.3" sounds biiiiiig! Let's wait. Even me it's eager to see what's all about!
I'm sure, this new new model won't be called Desire though, unless they'd like to get involved in yet another lawsuit

, as there's already the
HTC
Desire-series.
First thoughts to my mind too. I think the word Desire is part of plug instead of the model name, how confusing would that be?
It's going to be interesting to see what the Koreans and the Taiwanese come up with in this epic battle.
@Marly. I know, it was very late night when I wrote this. Mixed HTC and Samsung
I think over 5 inches is too big for a mobile. When does it stop being mobile??

---