New Philips Xenium 9@9 phone Range with Amazing 40 Day Battery Life
30 January 2007 by axxxr
I think we are all familier with our phones dieing out mid converstation now Philips may be able to help with there New Xenium range.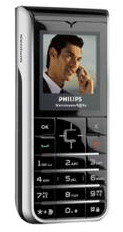 The phones that can stay up without charging for more then a month. ThatĀfs right Philips Xenium 9@9 phone line on standby can last up to 40 days.
Philips Xenium 9@9a (first from the left) is the most basic of them but has the longest battery life, with talk time of up to 10 hrs and standby of 40 days. Except for battery life, itĀfs just a phone - it works on GSM 900/1800 networks, supports SMS, EMS, MMS and WAP. Xenium 9@9a has 65K color 128Ā~12 px, 1.5Āć OLED display, 2MB of internal memory, supports polyphonic ringtones and a phonebook with 1000 entries. This candybar phone measures at 99,7 x 43,5 x 19,2 mm and weights 86 g.
Philips Xenium 9@9d (in the center) is a more advanced phone which had to sacrifice some battery life for functionality. But not much. This phone still has up to 8.5 hrs of talk time and 1 month of standby. In addition to basic phone features Xenium 9@9d adds 65K 128Ā~160 screen, 1.3 megapixel camera, JAVA 2.0 support, works on GSM 900, 1800 and 1900 networks, USB 1.1, Bluetooth and IrDA connectivity and 18 MB of user memory. It measures at 108 x 45 x 18.5 mm and weights 96 gr.
Philips Xenium 9@9t (on the right) can be considered a smartphone. In addition to the same impressive longevity (850 hrs of stanby and 8.5 hrs of talk time and other features of 9@9d, Xenium 9@9 t comes with a 128Ā~160 65K Touchscreen, Handwriting recognition, stylus, mp3 player and MiniSD memory expansion slot. No Bluetoooth and IrDA here.
Currently the This Xenium range is only available in the Asia region and is on the philips Hong Kong site source:unwired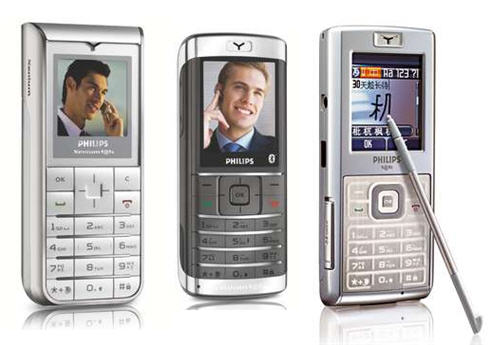 ---