Motorola E1120 3 Megapixel Camera Phone
15 February 2005 by axxxr
Motorola announced another great product today, the E1120 3 megapixel camera phone.
Stimulating your connectivity and entertainment senses, the Motorola E1120 functions both as a forward-thinking multimedia device and communications companion – providing the latest in mobile functionality and design. When used horizontally, the Motorola E1120 acts as a high-resolution digital camera with a full landscape display. Held vertically it becomes a slim candybar-shaped mobile phone. Powered by the speed of next-generation 3G technology, you'll be the envy of your clique as you listen to MP3s, play games boasting 3D graphics and capture, edit and send video clips. Expandable TransFlash™ memory, hands-free Bluetooth® wireless technology with compatible Bluetooth enabled devices and 2-way video conferencing provide even more ways for you to remain informed and in-touch, always.
I See You
Feather light and cooler than your designer shades, the Motorola E1120 provides a sophisticated mobile photography experience with editing tools and a large, landscape display. Simply turn the device vertically and press the dedicated shutter key to activate the 3 megapixel camera to capture events that you don't want to forget. Share with others via email, Multimedia Messaging Service (MMS)*, connect seamlessly to a compatible Bluetooth-enabled printer for real-time prints or stream images directly to a television with a compatible Bluetooth adapter.
The Power of 3G
You're moving up the ladder, professionally and personally, and this mobile will aid in your rapid ascent. Impressive 3G power lets you conduct high quality 2-way video conferencing*, view streaming video, and make the most of video capture and playback enhanced by Windows Media™ technology. And, experience the benefits of quick access to product information and services by capturing and sending barcodes with bar code scanning available on the model E1120*.
Soothe the Ears, Activate the Senses
Remain boredom free as you navigate the hallways and highways of your business and social circles with the Motorola E1120. In the mood for music? Take advantage of the mobile's MP3 player with dual-polyphonic speakers and 3D audio processing, creating spatial enhancement for surround-sound-like audio. Fancy some competition? Enjoy the 3D graphics engine for a virtual gaming experience.
SUMMARY OF FEATURES:
• Unique, dual-design for a seamless digital photography and mobile communication experience
• 3G technology services for quick browsing and accessing streaming video*
• 3 megapixel camera with auto focus, 8x digital zoom and 30 Lux lamp
• Video capture and playback with 2-way video calling and Windows Media™ playback
• Media editing features to alter still and moving images
• Motorola's dynamic idle solution to act as a mobile portal to favorite entertainment and news sites
• Integrated MP3 player, 3D stereo audio with dual polyphonic speakers and spacial enhancement
• Hands-free Bluetooth® wireless connectivity, compatible with other Bluetooth® -enabled devices including printers, computers, automotive devices and stereo headphones
• MMS, email and Instant Messaging options for sharing images, video and more*
• Ability to be on a voice call and simultaneously access the Internet, send email or receive content*
• Up to 512 MB of expandable TransFlash memory
• AGPS to access location based services, such as directions and details on nearby attractions*
• Enhanced WAP 2.0 browser for navigating the World Wide Web*
• Speaker independent voice dial, allows users to simply state a number and be connected with ease. The Motorola E1120 is expected to be available in the Q4 2005.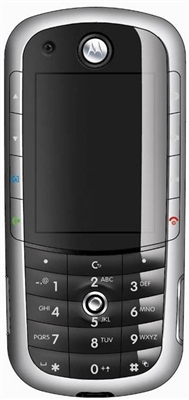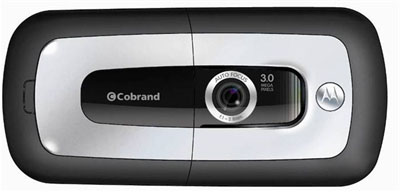 ---