More than 700.000 Android devices are activated daily
21 December 2011 by Olav Hellesø-Knutsen
According to Google, over 700.000 new Android devices are activated per day. An increase from 300.000 one year ago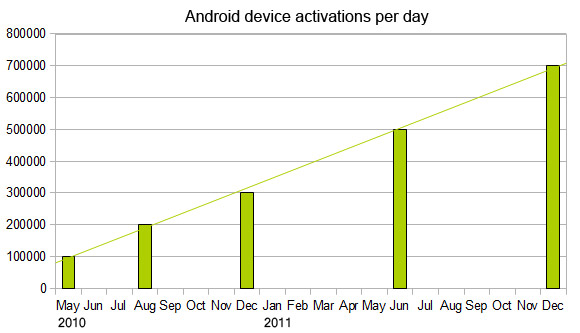 According to Andy Rubin, one of the Android Inc founders and now Senior Vice President of Mobile at Google, over 700.000 Android devices are activated daily. The growth of Android and iOS has often been measured by the number of device Activations. It is a good way to know if someone actually are using the devices. Obviously, devices laying on the shelf at a mobile phone store will not be counted.
The last time we counted activation numbers was in June this year. Six months ago the number of activated Android devices was over 500.000. As we reported in June, the one million mark will be reached by August 2012.
It seems like Google is on track with the increased count of handsets in the Android ecosystem. But what can't see from the illustration graph, is the share of Android tablets being released. Google does not split the activation numbers into tablet or smartphone sections. But we expect that the tablet sales has increased during the last two years. If that is the case, the number of new Android smartphone activations does not climb like it used to.
---
Alternatively post this in the Esato forum
Please sign in to your Esato account to leave a comment regarding this article
Phenomenal! It will soon be a million daily.
---