Android 4.0 Ice Cream Sandwich available for Galaxy S II and Galaxy Note in first quarter 2012
20 December 2011 by Olav Hellesø-Knutsen
Samsung today announced that more Galaxy smartphones will receive the Ice Cream Sandwich OS update by the first quarter 2012. Eight Galaxy devices will get ICS and half of those are smartphones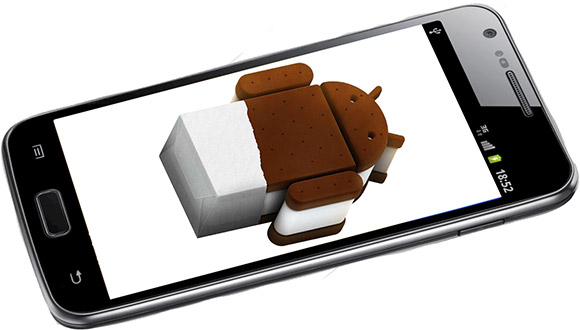 Samsung has plans to upgrade existing Galaxy devices with the latest Android version. Ice Cream Sandwich was announced by Google in October and the first devices running on the new OS platform was the Galaxy Nexus released one month later. The "Google phone" Galaxy Nexus phone is also made by Samsung so they should be familiar with the new OS by now.
Samsung today announced that they will update existing devices with ICS during the next few months. The two smartphones Galaxy S II and Galaxy Note are the first handsets to receive the update. Following the Galaxy S II and Note, Samsung are planing to update Galaxy S II LTE and Galaxy R.
As the Ice Cream Sandwich is the result of the "merged" Android 2.3 Gingerbread for smartphones and Android 3.2 Honeycomb for tablets, the new Android 4.0 Ice Cream Sandwich will run on both type of devices. Ice Cream Sandwich will later be available for the four Samsung Tablets Galaxy Tab 10.1, Galaxy Tab 8.9, Galaxy Tab 7.7 and Galaxy Tab 7.0 Plus
---
Alternatively post this in the Esato forum
Please sign in to your Esato account to leave a comment regarding this article
Can't wait.Lets hope its early first quarter.
Yes! I'm getting the Galaxy S II soon, looks like I made a wise choice.

---