Mobiles to get visual radio
22 January 2005 by axxxr
Nokia has been working on a technology called Visual Radio, which takes an existing FM signal from a radio station and enables that station to add enhancements such as information and pictures.
You will never again have to wonder WHO is playing WHAT on radio - now you can get detailed information on any piece that is being played. During the news you can SEE what they are talking about, weather reports can now show you the maps and tables of sports results can easily be viewed. Entering the middle of a talk show, you can see what has been discussed so far and what is coming up next. Valuable business news or urgent news alerts can be received at any time onto your screen without having to interrupt the broadcast over the air.
With Visual Radio you will be able to enjoy FM radio on your mobile like never before. Images and texts synchronized with the radio broadcast bring you more and enriched information directly to your screen. Interactivity enables easy participation in listener competitions, votes for favorites songs etc. Thanks to interactive advertising and special offers, you will be able to immediately purchase things you like: Ring tones, graphics and games - whatever you can fit into your handset. With faster connections and larger memories, this gets better all the time with increasingly rich video clips and tunes. And do not forget that the radio station can also offer you any cool things that can be delivered to your home.
To enjoy Visual Radio, you need a Visual Radio -enabled handset. First two Visual Radio -enabled handsets available for consumers are the new Nokia 7710 multimedia widescreen smartphone and the Nokia 3230 megapixel smartphone. Both will be globablly available in early 2005. More are coming as Visual Radio is put into an increasing number of Nokia handsets. Nokia also intends to make Visual Radio available to other handsets manufacturers.
Your mobile operator will be happy to help you make sure that your mobile subscription includes so called GPRS (General Packet Radio Service) mobile data service. Then you will be able to receive the new parallel channel services that your Visual Radio -enabled FM station is sending. The first one to offer Visual Radio is TeliaSonera Finland.
Then you just tune in to your favorite Visual Radio -enabled FM radio station. Kiss FM in Finland will be the first radio station to offer regular Visual Radio broadcasts as soon as the handsets are available.More information on: www.visualradio.com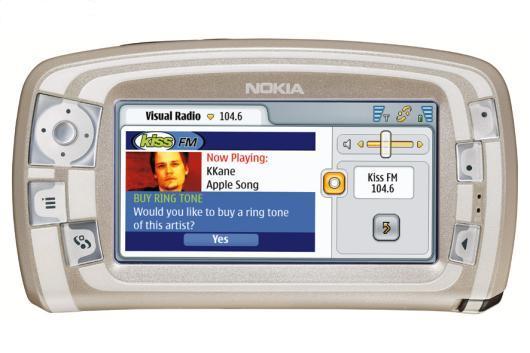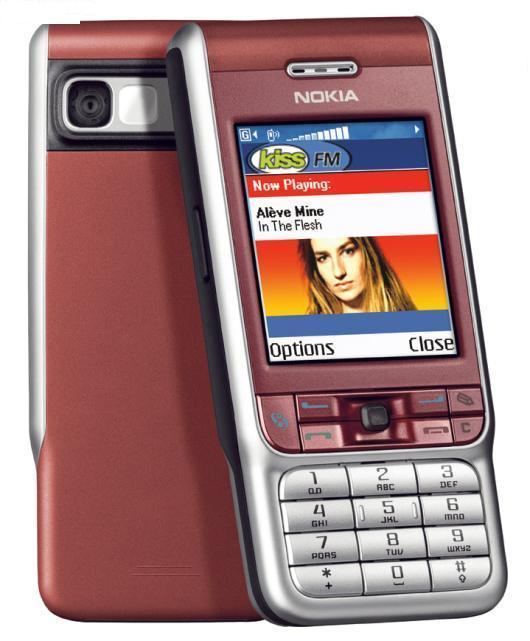 ---