LG F7100 Mecca phone
28 July 2004 by axxxr
LG Electronics has launched Mecca indicator mobile handset, the F7100 Qiblah phone.
LG Electronics has introduced to the market the Qiblah phone (model:LG-F7100) which comes complete with embedded compass, direction indication and prayer time alarm (Azan feature), usable in 500 cities worldwide. LG Electronics has launched the Mecca indicator phone in UAE, Saudi Arabia, Iran, and other Middle East nations, as well as North African nations. LGE held a launching ceremony in Dubai, on July 20th.
The LG-F7100 model indicates the direction of Mecca to the users when they input their location in about 500 cities worldwide. This is different from the Mecca indicator phone unveiled last year that required the users to input their location and adjust the compass, which was provided as an accessory, to the north. The new model also informs the users of their prayer time (Azan time) five times a day.
Muslims perform their obligatory Salat prayers five times a day(sunrise, noon, afternoon, sunset, and midnight). Likewise, they have to face Kaaba, an old temple in Mecca, and this Mecca indicator phone enables them to identify the direction easily, including in areas such as deserts.
The Qiblah phone, which already created a sensational response in the market last year, offers slide-down and intenna (internal antenna) features; thus boosting the expectation of its rising popularity among the consumers.
LG-F7100 offers Mecca indication and alarm features, as well as Arabic-based user interface. It is a GPRS multimedia-feature mobile phone that offers MMS (multimedia messaging service), ring tones, background pictures, and JAVA games.
LG Electronics is set to introduce the Mecca indicator phone to India,Malaysia, and Indonesia, as well as Turkey, Eastern European nations, Morocco and other North African nations, in addition to the Middle East.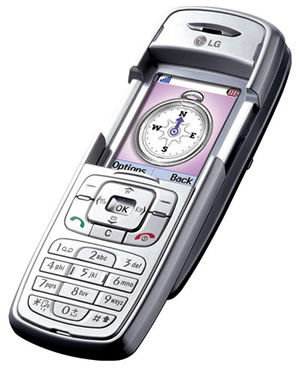 ---