Android Market reaches 400.000 apps
5 January 2012 by Olav Hellesø-Knutsen
Android Market now has over 400.000 apps available for download. Two out of three apps are free

According to our source Distimo, a company analysing app stores, the Google controlled Android Market now has 400.000 apps available for download. Two out of three of the apps are for free. And the percentage of free apps continues to grow. In April, 60% of all apps was free and this number has now increased to 68%.
We can not write an article about Android Market without mention the two main competitors. Apple App Store and Android Market needed 39 months to reached 400.000 apps. Apple App Store used 22 months to reach 200.000 apps while Android Market needed 31 months. Apple had a better start with the app store than Google. The third app store Windows Marketplace is still in a lower league. The Microsoft controlled app store reached 40.000 apps in over a year and passed 50.000 in December 2011. It took 14 months to reach 50.000 apps. 6.000 of those 50.000 apps are removed by Microsoft or withdrawn by the publisher. As with Apple App Store and Android Market, reaching the first 50.000 apps takes time, so new apps added to the Windows Marketplace could increase quickly in the near future.
We have previously written about app store milestones and one of the source for counting Android apps are Androilib.com. The site is counting apps differently than Distimo do where the total count of apps in Android Market is over 600.000. As with the numbers for Windows Marketplace, some of the 600.000 apps could have been removed by Google or the publisher.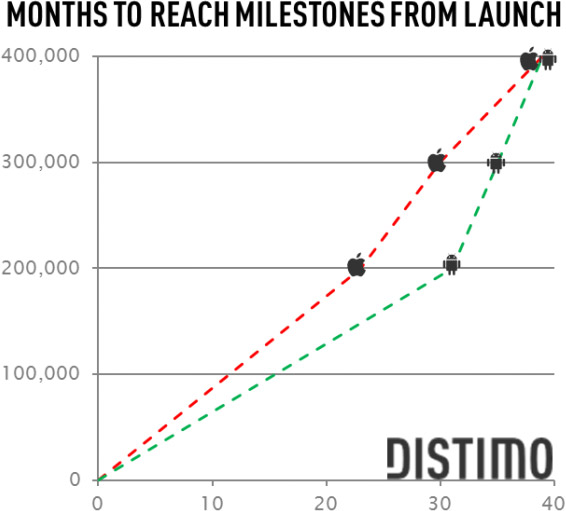 ---
Alternatively post this in the Esato forum
Please sign in to your Esato account to leave a comment regarding this article
---