Amazon Appstore with web preview of Android apps
28 March 2011 by Olav Hellesø-Knutsen
Last week, Amazon opened a new Android application shop called Amazon Appstore with the possibility to test drive most apps on a desktop computer via the web browser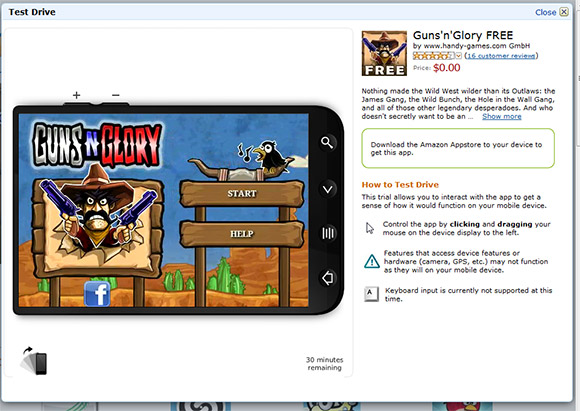 The Amazon Appstore will compete directly with Android Market and it will soon probably be the second largest app store for Android devices. It is currently only available to all US customers except customers of AT&T.
At lanuch, the store offered 3.800 apps. Applications submitted to the Amazon Appstore are going through a screening process by Amazon before it's being made available to the public. Developers can set a preferred price but this can be overridden by Amazon. The developer are garanteed a minimum percentage of their preferred price. Amazon are offering one selected paid app for free every day so developers will still get paid even if their paid app are for free for one day.
One advantage over Android Market is the posibillity to preview the app on a desktop computer via the web browser. This feature is called "Test Drive" and is not a simple Android emulator runnig an Android app. It is a Amazon web service (Amazon Elastic Compute Cloud EC2) that provides on-demand compute cpacity in the cloud for developers. As Amazon explains it: "When you click on the simulated phone using your mouse, we send those inputs over the Internet to the app running on Amazon EC2 — just like your mobile device would send a finger tap to the app. Our servers then send the video and audio output from the app back to your computer. All this happens in real time, allowing you to explore the features of the app as if it were running on your mobile device."
One of Amazon's most valuable asset is the recommendation engine which are used on all products offered by the Amazon site. The same engine is used on Android apps so after a purchase or two, Amazon know everything worth knowing about your app preferences and will recommend the most attractive apps for you.
---
Alternatively post this in the Esato forum
Please sign in to your Esato account to leave a comment regarding this article
---