Updated Opera browser for P800
25 September 2003
Opera has now released version 6.2 of their browser for Sony Ericsson P800. You will find both new features and bugfixes in the new version.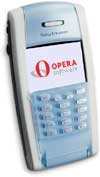 The Opera browser has been a popular substitute for the P800's internal browser. Mainly because of the Small-Screen Rendering technique, which shrinks plain web pages down to the size of the P800 display. Opera report that their browser has been downloaded hundreds of thousands times since the initial release back in February 2003.

Changelog for Opera 6.2 for P800:
Full screen
To switch between full screen and normal view; click on the browser button, long-click the screen, or pull the jog-dial.
Long-click functionality

In full-screen mode, tap and hold on the screen to open a menu
Tap and hold on an image to save it
Tap and hold on a bookmark displays the page in a new window
Tap and hold within a Frame gives the alternatives: "Maximize frame" or "Open frame in new window"
Tap and hold on a link gives the alternatives: "Open link" or "Open link in new window"
Technical fixes

Fixed problem with scrollbars going under some embedded objects
Optimized redrawing
Fix for wml <card> ontimer problem
Fixed a font problem when zooming a page
Various download fixes
Fixed a bug where target="_blank" opened two new windows
Fixed positioning problems of the long-click menu on frames pages
Fixed bug with rapidly flickering gif animations
Fixed a "power-drain" problem
Added some missing character tables to fix character encoding problems on many sites (Russian/Greek etc.)
Added partial double buffering to be used for transparent animated gifs
Several other bugfixes
Read our review of the Opera browser here
Download the free upgrade from the Opera web site.
---