UK scientists roll out Wi-Fi proof wallpaper
12 August 2004 by axxxr
British boffins have developed wallpaper that blocks Wi-Fi traffic but still allows other wireless transmissions to pass through in a bid to prevent unauthorised access to sensitive data via the WLAN.
Developed by UK defence company BAE Systems, the wallpaper uses Frequency Selective Surface (FSS) sheeting, a material more commonly found slapped on military aircraft, naval vessels and radar antennae, New Scientist reports.
In this case, the FSS material is manufactured to absorb signals in the 2.4GHz and 5GHz frequency bands used by 802.11a, b and g equipment. Other frequencies, such as the 1800MHz band used by GSM networks, are not blocked.
FSS wallpaper isn't the only way of blocking electromagnetic transmissions, but it is the only solution that doesn't hinder every form of wireless communication. Firms employing the technology will still need to replace their windows with radio-absorbing glass.
By blocking WLAN coverage outside the building, BAE believes the wallpaper will prevent tapping into the network, particularly if the WLAN is left unsecured in order to provide guest access to a company's network.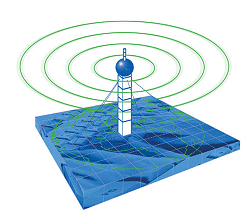 Via:theregister.com
---