T68 voted as the best phone on CNET Wireless
4 April 2002
The website CNET Wireless recently hold a mobile phone contest and the T68 was voted in as the best phone.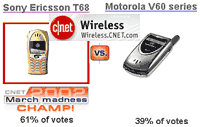 The competition started with a list of 64 mobile phones which included among others popular phones like Siemens S40, Nokia 3300, Motorola V60 and Samsung SPH-A400.
A typical comment from a T68 voter was "One of the rarest characteristics you can find in a phone is that it looks good on the inside and out. In that respect, the T68 is truly beautiful."
It didn't seems like the V60 voters had faith in that their favourite would make it to the top. The following comment proves just that: "Just remember, even if the V60 doesn't win, the V70 is a freshman next year. The league is in trouble."
The final round was very exciting, but the final ended with 39% of the votes to Motorola V60 and 61% to the T68.
---