SMS Message-spraying bike
29 July 2004 by axxxr
Got something to say? With this SMS-printing bike, anyone can leave a message.
Josh Kinberg just finished his master's thesis and hit Print. It read only "I Love New York." His adviser loved it.
Of course, Kinberg's degree is an MFA in Design and Technology from Parsons School of Design in New York City, and his thesis is a bicycle that receives text messages and prints them in foot-high chalk letters, then blogs a digital photo and GPS map of the printing, all while the rider cruises along.
A self-described "hacktivist," Kinberg's other school projects have included Magicbike (a mobile Wi-Fi hotspot he and a professor take to outdoor cultural events) and the Hello World Project, which let people laser-project their own messages onto landscapes and landmarks all over the world.
Kinberg will officially roll out the bike during August's Republican National Convention in New York,The project homepage can be found at bikesagainstbush.com. See video of it in action in QuickTime or Real Video.
FROM WEB TO STREET
1. Nokia 3650 cellphone receives a text message sent from Kinberg's site. If the rider wants to print it, he sends it via Bluetooth to a Powerbook.
2. AppleScript and Perl code translate each letter into a 5-by-5 dot-matrix pattern and send binary code to a black box containing a BASIC stamp microcontroller.
3. Code is translated into high- or low-voltage signals, and sent via homemade serial cable to five relay switches housed in a custom-made Plexiglas box.
4. Relays fire electromagnetic solenoids, powered by a 12-V gel cell battery.
5. Solenoid pistons trigger nozzles on inverted spray-chalk aerosol cans to blast out a dot. The rate of fire adjusts automatically based on the rider's speed.
6. GPS device captures the position of the sprayed message, and the webcam snaps a pic; both are uploaded through the cellphone's GPRS to a blog.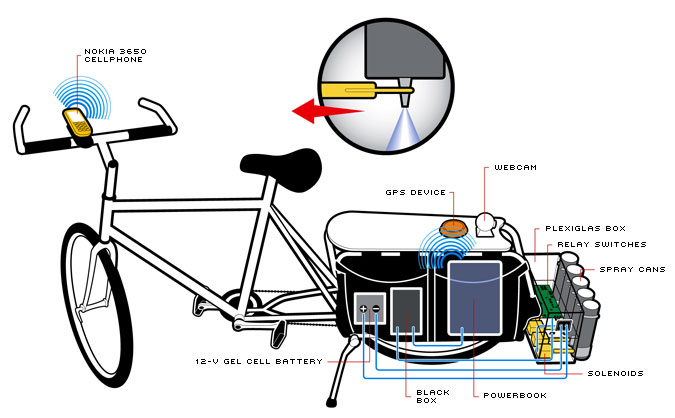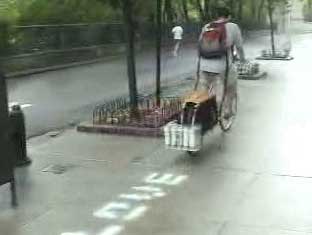 View a video of the SMS-bike here
---