Samsung sells over 300 million mobile phones in 2011
12 December 2011 by Olav Hellesø-Knutsen
Samsung has reported that the company will sell over 300 million mobile phones in 2011. That is a new record since the Korean company entered the handset business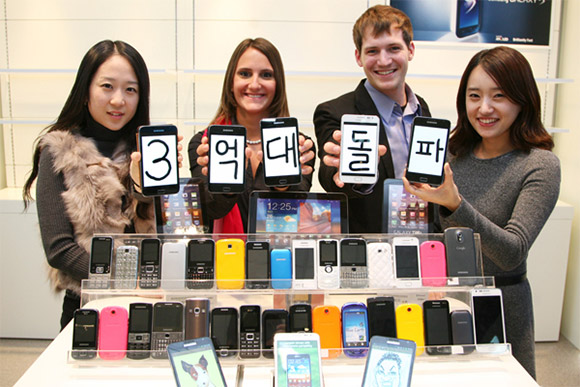 Samsung is one of the worlds largest maker of electronic products in general with computers, monitors, digital cameras and memory chips as the best known areas. One area they did particular well in 2011 was the mobile handset industry. On Sunday, the Korean company reported that by the end of November, they passed last year sales figures of 280 million units. Samsung expects to sell over 300 million million mobile handsets by the end of this year. Selling 300 million units per year is the same as 570 phones per minute, or over 9 handsets per second. Impressive numbers.
Nokia is still the world wide leader in mobile phones sales. Nokia shipped 352 million mobile phones and 100 million smartphones and mobile computers in 2010. This years numbers from Nokia has not been announced yet, but looking at the first three quarters reveals that the total number from the Finnish company will be over 400 million units. Samsung is is the second larges manufacture of mobile handsets.
Samsungs growth in a s smartphone manufacture is evident when we know that they sold 1 million handsets in 1995 when they entered the handset business. In 2005 they sold 100 million which increased to 200 million in 2009.
---
Alternatively post this in the Esato forum
Please sign in to your Esato account to leave a comment regarding this article
Wow:-) that's impressive
I See the Tocca ULTRA II
isn't amongst those ... it put me of so called Samsung

So called Samsung

Samsung are a very different company from the Tocco days love. You cannot judge a company on one device.
lol but I can judge them on Size rather then lousey batterys now

only decent sammy I ever had was a D600
I had a few more afterwards but the d6 was the best experience and had the best 2MP camera ever

Im not to keen on todays products that there generating there churning out big massive ipad things

But the GS2 battery lasts over a day that's good for a smartphone with such power

As for size,Sensation XL is bigger than GS2

The large Note phone is just one of their range not all their devices are huge
[ This Message was edited by: Bonovox on 2011-12-12 22:18 ]
lol depends how you use it my Ex sensation lasted me a day but i was using
it constantly on the data

I don't understand the need for huge mobiles about 4inch is the size they should remain at
not 5inch lol !
btw I know how Big samsung are at the min they have had a good turn with there Galaxy bars,
I actually think you bought the better one in white too

but its not for me

I used to feel the same about Samsung but ive now changed my mind based on their most recent efforts. I think the Galaxy S was the real turning point in Samsungs success story. With the S2, its now gone through the roof. Its still the best Android phone out there imo, even over the Galaxy Nexus. Samsung are the Nokia of years gone by.
Mind you, with the Lumia 800 i think Nokia's fightback is well and truly on, with some real clout. Nokia have made me eat my words after February 11th's announcement from Elop that they would go with Microsoft.
They've won me over with this G2.
MissUK I agree with you when it comes to stay within the 4" screen dimensions.My sights were on the Galaxy Note but when I encountered a working unit 'in the flesh' it just didn't feel right.Did a u-turn and bought its baby brother.Haven't had the opportunity to play on a phone with a 4.7" screen so I can't comment on that but the G2's 4.3" is perfect for me.
thats the whole thing anything above 4.3 is just far to massive
these companys need to think about what there doing
cos i don't want a tablet phone

might aswell fit my samsung notebook in my handbag

---