Nokia Lumia 710 starts shipping today
9 December 2011 by Olav Hellesø-Knutsen
Lumia 710, Nokias second Windows Phone model starts shipping today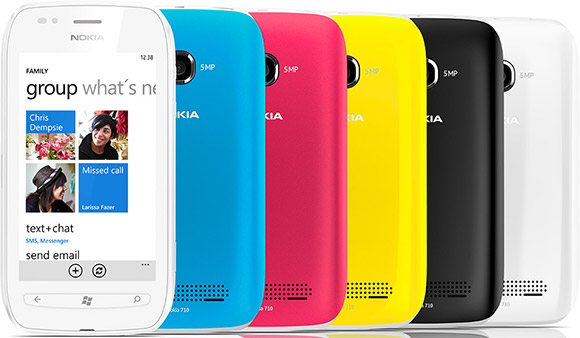 Nokia Lumia 710 is the second Windows Phone 7 from the Finnish mobile phone maker. The Lumia 710 will start selling in Taiwan today and in stores in Singapore, Hong Kong, India and Russia the within a week. Nokia 710 expected retail price is 270 Euro which is very cheap for a Windows Phone 7 smartphone.
Both the more expensive Lumia 800 and the Lumia 710 are powered by a 1.4 GHz processor and both phones has a 3.7 inch touch display. Where the Nokia 800 has inherited the nice form factor from the Nokia N9, Lumia 710 looks more like an entry-level smartphone.
To cut the price down to 270 Euro, Nokia has made some sacrifices. Lumia 710 has ClearBlack display technology but does not have a AMOLED display. As usual, Nokia offers many colour variants for their mass market models. The Lumia 710 is no exception and you can buy it with either black or white front and with the following back covers: fuchsia (red), black, yellow, white, cyan.
Nokia Lumia 710 highlights
Size: 119 x 62.4 x 12.48 mm
Weight: 125.5 gram
Networks: GSM/EDGE 900/1800/1900, WCDMA 900/1900/2100, HSPA 14.4/5.76 Mbps
Wi-Fi b/g/n
3.7 inch display TFT display with ClearBlack technology
Bluetooth 2.1 +EDR
FM radio
E-mail: SMTP, IMAP4, POP3 and Mail for Exchange 2003 and 2007
5 megapixel camera, auto focus, 28 mm, f/2.4
720p HD video capture 30fps
512 MB RAM. 8 GB internal storage. No memory card slot. 25 GB SkyDrive space
1.4 GHz Qualcomm MSM8255 Snapdragon processor
3D Graphics HW Accelerator
USB
3.5 mm audio jack
A-GPS
Keys: Camera, power and volume keys
Excel, Word, Powerpoint and One Note applications
1300 mAh battery
Standby time: 400 hours (GSM), 400 hours (WCDMA)
Talk time: 6.9 hours (GSM), 7.6 hours (WCDMA)
Internet Explorer 9 Mobile with support for hardware graphics acceleration and HTML5
Accelerometer, proximity sensor, magnetometer, ambient light sensor
---
Alternatively post this in the Esato forum
Please sign in to your Esato account to leave a comment regarding this article
I really like what Nokia is doing here. A decent affordable Windows phone but not skimped on quality. If they can make this popular then Nokia will be back in the mass market business again like they were so good at before. That's what I think anyway.
Its encouraging but i think Nokia at the moment have sacked one too many of their employees, mainly the design team. The 800 is simply a N9, so no design needed and this 710 is simply a very budget looking phone. Its great having budget phones which run WP, but to look cheap and nasty isnt the best idea imo.
Im not saying the 710 looks cheap and nasty, but by looking at it you can clearly tell its a budget line.
This is good phone for people to test WPmango

I have Lumia800 and can tell you it's doing great.
This is not a joke, but I was using the lumia 710s keyboard the other day and it was pretty much better in every way than the Nexus 4s keyboard. Again, not a joke.
[ This Message was edited by: Away on 2013-03-12 19:24 ]
---