Samsung launches Blue Earth Eco phone
14 October 2009 by Olav Hellesø-Knutsen
Samsung today announced the launch of the Blue Earth environmentally friendly mobile phone with touch screen.
The Samsung Blue Earth was first seen at the Mobile World Congress in Barcelona earlier this year but Samsung today officially launched the new Eco-model.
Blue Earth is made from Post Consumer Material (PCM), which is extracted from water bottles, helping to reduce fuel consumption and carbon emissions during the manufacturing process. The device, including the charger, is free from harmful substances such as Brominated Flame Retardants (BFR), Polyvinyl Chloride (PVC) and Phthalate. The packaging for Blue Earth is designed to be compact. The package is made from easy-to-recycle paper and printed in soy ink. It also suggests a simple DIY idea to reuse the package as a photo frame or a pencil box.
Blue Earth comes with a 5 star energy efficient charger which uses only 0.03W of power in standby mode. As part of the Voluntary Agreement of European Commission IPP (Integrated Product Policy) pilot program, Samsung has agreed to start showing ratings on energy consumption on the no-load mode of the mobile device charger. Furthermore, by charging with the solar panel located on the back of the phone, users can generate enough power to use the device anytime and anywhere. Solar energy is considered one of the most eco-friendly energy sources and it helps users reduce usage of energy from non-renewable sources.
A 5 start eco-charger is included in the package, so you can even re-charge the phone when the sun in down.
Samsung Blue Earth is launching in Sweden in October and will soon launch in France, Germany, Austria, Italy, Portugal and other European and Asian countries.
Blue Earth Specifications
199 gram

180 x 53.6 x 14.2 mm

Network: EDGE/GPRS 850/900/1800/1900, HSDPA 3.6 Mbps 900/2100

Bluetooth Stereo 2.1

WiFi

USB 2.0 HS

Display: 16M colours, 240 x 400 pixel resolution, 3.0 inch display, Capacitive Touch Screen

Camera: 3.2 megapixels, face detection, smile shot, QVGA video recording

FM Radio

Power: Solar Charging Panel, 5 star eco charger

Eco-mode, Eco-Walk, Eco-Calendar, Eco-Tips
Note: It seems like the Blue Earth has got a face lift since the first announcement in February. Notice the added front camera on the later version. The display resolution seems have changed from 240x320 to 240x400 pixels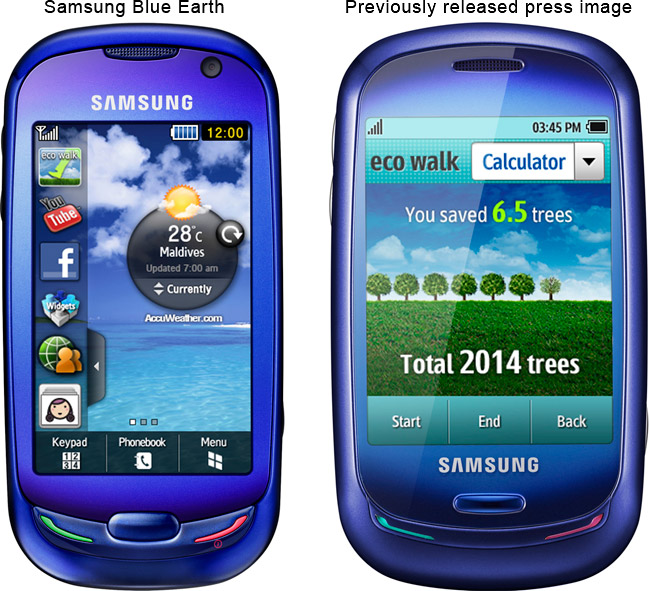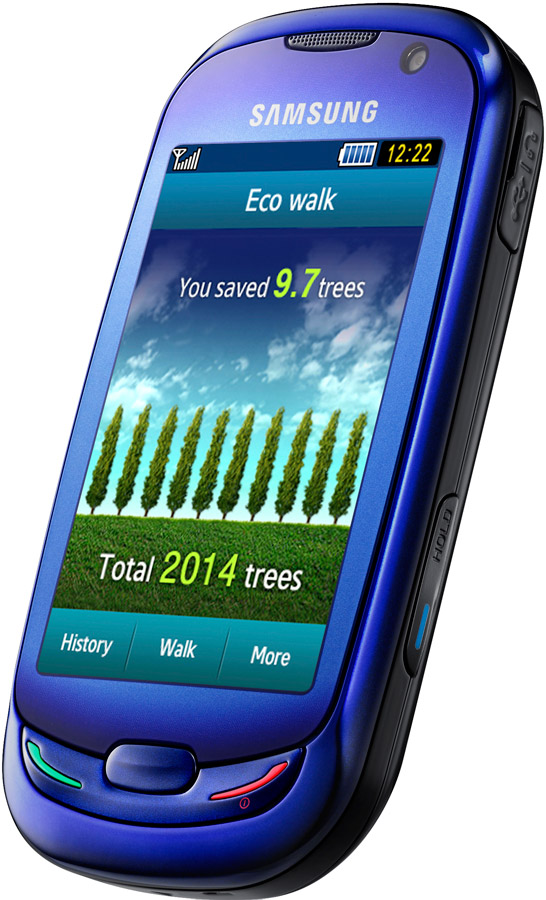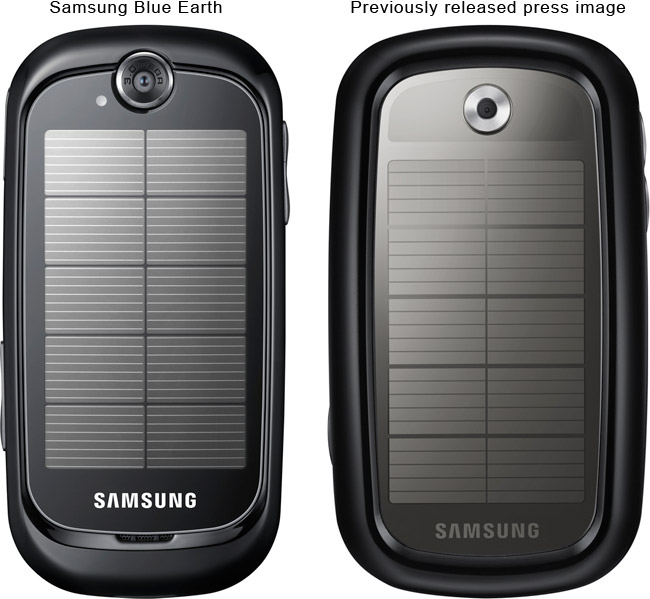 ---