Samsung Galaxy S II ready for the US
31 August 2011 by Olav Hellesø-Knutsen
AT&T, Sprint and T-Mobile today announced that the Samsung Galaxy S II will be available this autumn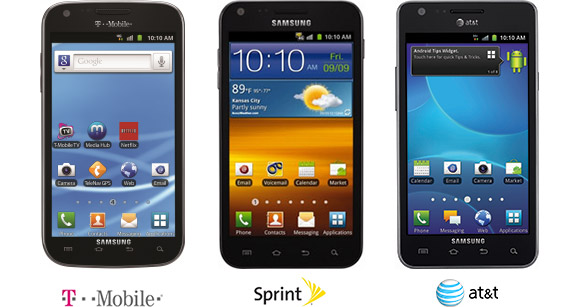 The Samsung Galaxy S II (Sprint naming: Epic 4G Touch) is a award winning Android 2.3 Gingerbread smartphone with a 4.3 or 4.52 inch Super AMOLED display. The Galaxy S II is currently Samsung's flagship model. Samsung is the most selling manufacture in the US and the introduction of the Galaxy S II to the largest networks in the US will further strengthen the position.
Galaxy S II has been for sale in Europe for months and despite the high price 5 million units was sold during the first 85 days of availability.
Samsung Galaxy S II highlights
Weight: 129 gram
Size: 129.5 x 68.6 x 9.7 mm
Networks:

T-Mobile: GSM 850/900/1800/1900, HSPA 1700
Sprint: CDMA 800/1900, CDMA2000 1xEV-DO
AT&T: GSM 850/1800/1900, HSPA 850/1900/2100

Display

Sprint/T-Mobile 4.52 inch Super AMOLED. 480 x 800 pixels resolution, 16 million colours
AT&T 4.3 inch inch Super AMOLED. 480 x 800 pixels resolution, 16 million colours

8 megapixel camera, LED light
1080p Full HD video capture
2 megapixel front camera
Bluetooth 3.0
Wi-Fi a/b/g/n. Mobile Hotspot capable
microUSB
A-GPS
1 GB RAM. Expandable up to 32 GB with microSD card
1.2 GHz dual core processor. Samsung Exynos.
Android 2.3 Gingerbread
The Sprint edition will have WiMax connectivity
---
Alternatively post this in the Esato forum
Please sign in to your Esato account to leave a comment regarding this article
Can someone explain to me why US fails so much in GSM world? Why can't they have one phone with all major mobilie network providers? Why there is different phone for each one, and why are they all branded? And most importantly, why they arrive 6 months after official release?
Poor

!
US Network providers are all getting their version of the SGII while

failed with the Arc...
@Admad, maybe it is because Apple thinks that the other version look similar to the iPhone 3gs and might sue to block sales in the US.
Nah, its not due to Apple.
Competition between US networks, especialy between Verizon, AT&T, T-Mobile, and Sprint is extremely high, they all want to totaly differentiate themselves to lock customers into 24month contracts, they load network specific software e.g Maps, IM etc...
Its been like that for many years, since the days of Window Mobile, even HTC let US networks customise their phones e.g the Verizon Thunderbolt which is a customized DesireHD, EVO 4G which is a customized Desire in an HD2 chassis etc... They have a very interesting phone industry in the US.
[ This Message was edited by: Tsepz_GP on 2011-08-31 12:04 ]
---