Samsung Galaxy Pocket - A handy 2.8-inch touch screen smartphone unveiled
6 March 2012 by Olav Hellesø-Knutsen
Samsung today announced a very cheap and small 2.8 inch Android smartphone with Wi-Fi, GPS and a 832 MHz processor

It did not take longer than a week before Samsung had another new smartphone to show the world. This time, it is a entry-level Android smartphone. It as basic as it gets and the extremely low price reflects that. We have been told the prices in Norwegian kroner which is 1199,- That is approximately 160 Euro.
Galaxy Pocket has 2.8 inch touch display with a 240 x 320 pixels resolution. The processor is single-core running at the speed 832 MHz. The Galaxy Pocket is powered by Android 2.3 Gingerbread, and the 832 MHz processor is probably about the minimum requirements for running Android 2.3 smoothly on a handset even though the official Android hardware requirements are lower than this.
Samsung has made touch screen smartphone with this size before. The Genoa, Diva and S5600 are just few of the older 2.8 inch smartphones from Samsung but these models are not running on the Android OS.
Samsung Galaxy Pocket highlights
Size: 103.7 x 57.5 x 12 mm
Weight: 97 gram
2.8 inch touch display, 240 x 320 pixel resolution
2 megapixel camera
Wi-Fi
A-GPS
Bluetooth 3.0
USB
832 MHz processor
Android 2.3 Gingerbread
3 GB internal storage. Expandable with microSD card up to 32 GB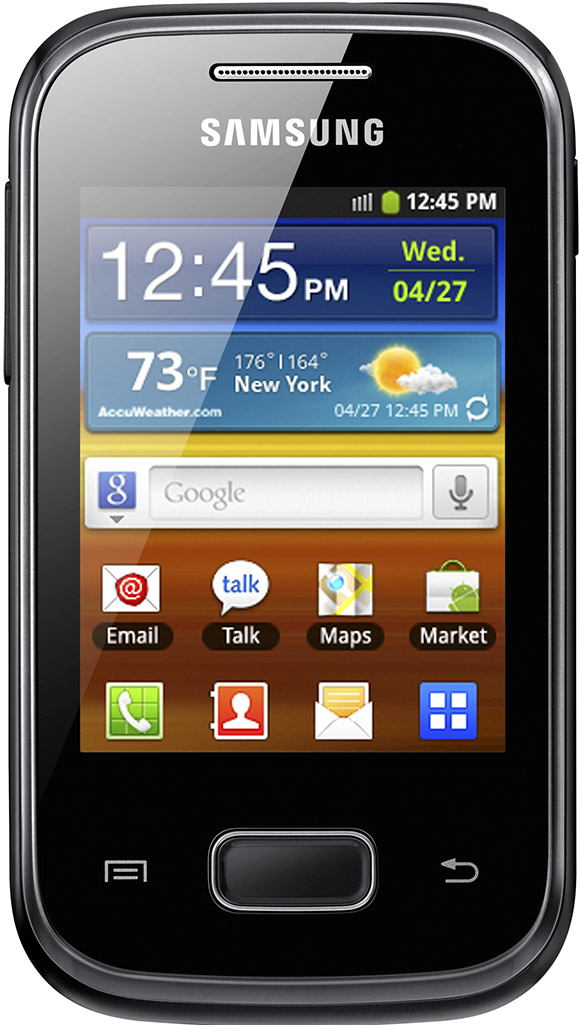 ---
Alternatively post this in the Esato forum
Please sign in to your Esato account to leave a comment regarding this article
---