Samsung and Google announces Galaxy Nexus smartphone running Android version 4.0 Ice Cream Sandwich
19 October 2011 by Olav Hellesø-Knutsen
Samsung and Google today announced Galaxy Nexus, the first smartphone running version 4.0 of the Android operating system.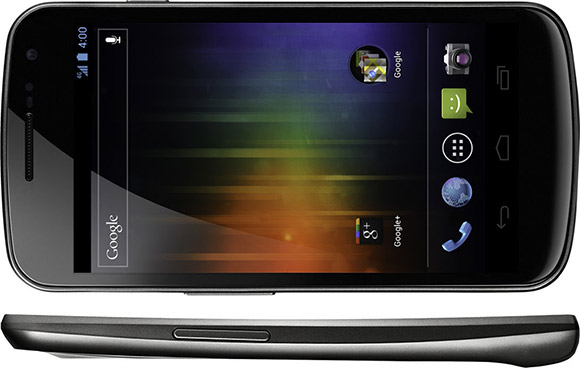 At an event in Hong Kong today, Google introduced version 4.0 Ice Cream Sandwich of the Android operating system and the first smartphone running the new OS. Samsung Galaxy Nexus is an smartphone with a curved 4.3 inch touch screen. Most of the specifications and images of the devices was leaked days before the actual announcement so we had already updated our phone directory with this info.
Apart from being the first Android 4.0 ICS smartphone, the Samsung Galaxy Nexus impresses with a rounded shaped 4.65 inch touch screen. The rounded shape and the Contour Display makes the Galaxy Nexus fit perfectly in within the hand. The screen resolution of 1280 x 720 is nothing more than impressive. The resolution is even higher than the 10.1 Galaxy Tab tablet. Only a handful smartphones has a pixel density (PPI) higher than 300, and those screens are all below 4 inch in size. Galaxy Nexus has 315 PPI and a 4.65 inch display.
The thickness of 8.9 mm makes the Galaxy Nexus one of the thinnest smartphones in its class. The 1.2 GHz dual core processor powers the device enough to capture videos up to 1080p quality. A 5 megapixel camera is a little disappointing in a flagship model but the image quality can still be good.
Android 4.0 Ice Cream Sandwich brings countless new features to the market. Such as the gimmick feature Face Unlock where the phone can be unlocked by switching on the phone and looking into the camera. Android Beam is another feature where active apps can share photos, links, contacts etc by holding two NFC enabled devices close to each other and push the display to beam the content over to the other phone. Voice typing is a voice to text feature for all applications.
As we have seen in a couple of other newly released Android devices, Samsung Galaxy Nexus features a new function for panorama shots.
Galaxy Nexus will be available in two versions. One GSM version which will have 4G using HSPA+ and the other version with LTE.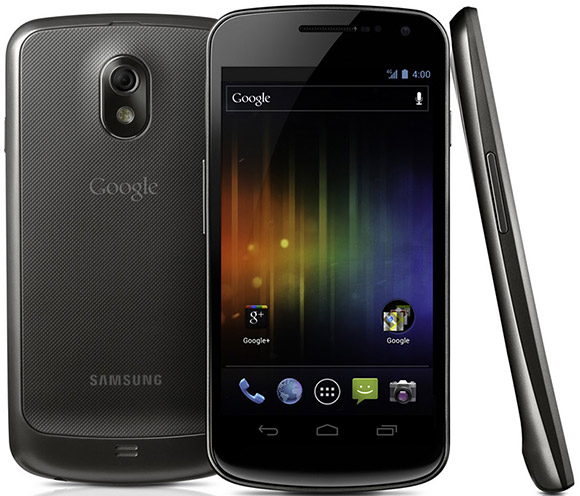 Samsung Galaxy Nexus highlights
Size: 135.5 x 67.94 x 8.94mm
Weight: 135 gram
Networks: GSM/EDGE 850/900/1800/1900, HSPA 850/900/1900/1700/2100, HSPA+ (alternatively LTE)
4.65 inch Super AMOLED display, 1280 x 720 pixel resolution
5 megapixel camera, autofocus, LED light, panorama shot
1.3 megapixel front camera
Wi-Fi a/b/g/n
1080p HD video capture @30 fps
Bluetooth 3.0
USB
NFC
A-GPS
3.5 audio jack
1.2 GHz dual core processor
1 GB RAM. 16/32 GB internal storage
Android 4.0 Ice Cream Sandwich operating system
1750 mAh battery
Sensors: Accelerometer, compass, gyro, light, proximity, barometer
---
Alternatively post this in the Esato forum
Please sign in to your Esato account to leave a comment regarding this article
See? They CAN make a phone that doesn't look like an iPhone!

Any news on availability?
Available in U.S, Europe and Asia in the beginning of November.


See? They CAN make a phone that doesn't look like an iPhone! Any news on availability?

Yes but only with google's intervention

GSMArena says it should be available on November
[ This Message was edited by: razec on 2011-10-19 05:52 ]
A good, well rounded device, the OS is the interesting part for me, although I still think the voice thing is over rated.
The screen resolution and the new Android are the only two really impressive points here. We'll see how the 1750 mAh battery handles these. Whereas design is just... like many, many others.
Hmmm...looks like they've copied Sony Ericsson's layout with the 2 apps either side of the app launcher on the bottom row of icons

go and sue!
The OS is definitely the highlight for me. It looks more refined and elegant. Reminds me of Windows Phone 7 in a way... Check out the
video
for those interested.
I am a bit disappointed by the Galaxy Nexus, especially the processor and imaging department. The Samsung Galaxy SII has a 1.3MP and 8MP camera at the front and back respectively, and this trounces the Galaxy Nexus! And a 1.2Ghz dual core processor? HTC have already hit the 1.5Ghz mark. So why so "restrained" Samsung? Is this Samsung's way of making sure that when they release the SG SIII it will be better in every way than the Galaxy Nexus?
So Google does not have their say on the specs of their pure Android breed of phones then?? Shame as the announcement of this phone something big is coming sounded exciting. Another anti climax. And no not every Samsung looks like the iphone my Samsung Wave 2 is nothing like it. The Galaxy Ace is the worst one for iphone looks
Is it just me or the back of this phone looks plain hideous

What I don't get is why the step down in the camera department. This is like the iPhone 4s, nothing fresh new and exciting.
@Geezay, I agree with you totally.
Edit, you know what, I want to believe that Sammy will come with something we did not expect otherwise forget it.
[ This Message was edited by: skblakee on 2011-10-19 12:04 ]
EVERYTHING we saw in the rumours came true

-Holographic UI aka Honeycomb UI
-Button less phone, as i had said in another topic, if you have used Android3.0 Honeycomb you will know that ICS will not require buttons!
-Android3.0 widgets that are resizable
-There are no major system requirements other than GPU as Ice Cream Sandwich brings Hardware Accelerated UI, majority of Androids have a GPU.
-HD 1280x720P screen res support.
-Android3.0 task manager
-Android3.0 Web browser
etc etc...

Looks amazing, im very fond of the Honeycomb Android3.0 UI on my Galaxy Tab10.1 and i always said its more mature and elegant than the phone UI so im glad to see Google also realised this and made it for phones to.
Apparently its also now possible to "disable" preinstalled apps so they dont use any resources and dont appear in app list, also an advanced data manager that even allows you to set it to stop data transfer when reaches a certain limit.
Loads more here:
http://developer.android.com/[....]0-highlights.html#UserFeatures
Personaly VERY happy with the announcement, Android4.0 is mature, elegant, highly functional, and a major step forward for Android.
The SAMSUNG Galaxy Nexus was NEVER going to be mind blowing, for goodness sake its a DEVELOPER PHONE its just a benchmark to give developers and manufacturers an idea of what Android is capable of and what is expected, dont expect Nexus devices to be great in imaging or power.
This runs a TI OMAP4460 dual-core CPU with PowerVR SGX540 GPU, its decent and being a TI OMAP chip will give the Tegras and Snapdragons a run for their money despite being clocked lower.
See this as an idea of what to expect from SE, MOTO, HTC, SAMSUNG, LG etc... when they bring out Android4.0 phones and update the other to 4.0, they will put their own skin over it, but this is a very good base for them as major functionality has been added, all the OEMs have to do is bring a nice up to date skin and some of their proprietory apps, but they will require less work in 4.0.

[ This Message was edited by: Tsepz_GP on 2011-10-19 12:25 ]
Ok yes would love ICS but not in this device
I don't like this phone and I don't like Android.
OEMs will be mostly interested in pushing out new devices as opposed to giving owners of current devices a reason to hold on to their current phones and not to upgrade. Having said that, I think the newer recent crop of popular devices will get ICS, lest there is public outcry as was the case when HTC announced that the HTC Desire would not get GB.
Sadly I see this also as the beginning of the whole "will-my-device-get-ICS-or-not" rants on the web! Sigh
I must admit I am looking forward to seeing ICS in full play!! A whole new experience

Some potential reasons why Google chose a TI OMAP chip for its latest Nexus:
www.phonearena.com/news/Why-G[....]droid-ICS-poster-child_id23089
Personaly ive always had mad respect for TI OMAP chips since the days of the N93, their chips have always had both power effeciency and multimedia as major strengths over the rest, and hoped SE's next crop of droids use a TI OMAP chip, this TI OMAP4460 has an overclocked GPU and the CPU is underclocked to 1.2GHz, considering that Android4.0 supports UI HW Acceleration it means the UI depends less on the CPU and now off loads some work to the GPU, and thanks to multi-core support to it means both cores do the work with the dual-core CPU, this thing is going to be INCREDIBLY smooth, and so will all the other Android4.0 ICS devices and those that get the update.

Realy hope my network has it by December, the more i read about it the more i want it.
Hands on preview
http://www.gsmarena.com/samsu[....]_nexus_hands_on-review-663.php
This device seeing it in the video is starting to look sexy!! The new browser loaded so fast

[ This Message was edited by: Bonovox on 2011-10-19 22:12 ]
This will be my next phone, next month.
My contract is up for renewal now so this is the only choice seeing as the iPhone 5 didnt show its head.
Initial thoughts are:
- love the looks from the front, side and ends
- hate the look of the rear
- confusion, some sites say there is a micro sd card slot, some say there is not. Images show no slot anywhere sadly..
- disappointed about the low resolution camera, a move to stop it stealing the limelight from the S2 perhaps
- disappointed about the cpu speed of 1.2ghz, i would have expected a little more around 1.5ghz
- love the UI of ICS
- love the HD screen and its size
- love the overal user interface videos of the phone
Im really looking forward to the Galaxy Nexus, but less than what i thought i would seeing as one or two key features are still missing which i'd have liked. However, with apps like ChatOn from Samsung im sure the phone will be well stocked with great features not found in many other devices.
I... WANT...
@Geezay, remember that Google made OEM's agree to update their android phones every number of months (which I don't recall) so that manufacturers will have to update their current crop of phones to ICS.
Could someone justify for me the lack of a Gorilla glass?!! I thought the days where we had to look after these screens from the slightest scratches are long over!!
Is it the curvature?!
Also the screen itself misses the "Plus" of Samsung's AMOLED! And it's not about just a minor plus from what I was reading!!
Also the camera seems to be underperforming examining those early photos.. Will wait for a proper review or more reliable pics..
And is it only me or the design is a bit awkward?! To my eyes, it's nowhere near the sexiness of the GSII despite the big similarity...
And what about the Galaxy SII HD?!! It will be released this quarter.. Probably during November..
Is it coming to Europe?! For me, it's an obvious choice over this GN.. Despite missing on ICS for few months and lack of instant updates as soon as they get released from Google..
I really don't get it why there are always these deal breakers to all Nexus phones!
[ This Message was edited by: false_morel on 2011-10-24 02:29 ]
Tsepz_G ... completely agree about mad respect of the TI OMAP processor ... they MADE what ARM chips are supposed to be ... always been the benchmarks. BTW .. the OMAP4460 does NOT have an overclocked GPU ... its a newer GPU (not new just newer) than other smartphones/tablets using OMAP4430 or equivalent ARM Cortex A9 chips - including Snapdragon and others. This GPU will rock others.
TI (Texas Instruments) is THE leader of licenses for ARM's chip designs ... if you think NVidia's first 2 Quad-Core mobile ships are going to rock ... then I'm telling you the A15 from TI will be the next SHIIIIIT!
I'm VERY highly considering the Galaxy Nexus vs iPhone 4S; however I need to wait and see what HTC will offer in terms of a 720P resolution smartphone. I'm a Mac user so the IP4S appeals to me in terms of sync and compatibility.
Im still a bit unsure now about this phone. I think it'll be great and all but i think it might be worth waiting for the Galaxy S3 next year. Im disappointed in its looks, the lack of a plus super amoled screen and average megapixel camera, even if it takes great snaps.
@ false_morel - i think the lack of gorrilla glass is simply down to the curved screen i read on several sites.
No Gorilla glass?? That happened on the last Nexus

At this price point is bad too.
I just like the SGS2 design better than the Galaxy Nexus.
Every time i see the SGS2 i love it more. I just hope when i hold a Nexus in my hand i feel the same. At the moment im tempted at getting either the SGS2 or the 4S.
And is it just me or does ICS look dull and boring ?
I was thinking the same ICS looks dull with not much colours

Im sure it'll look better with Touchwhiz or Sense overlapped on it, but i think Samsung could have made the Nexus look a bit prettier by putting the default wallpaper on the demo phones something more colourful than the dark blue theme every phone seems to be using.
Maybe it's the Apple patent thing they made it look less like an iphone

Samsung need to re think their designs

---