Nokia C5 - The first model in the new C-series
2 March 2010 by Olav Hellesø-Knutsen
Nokia today announced the Nokia C5 and unveils a new naming convention. From now on all Nokia handset will be named using one of the N-series, E-series, X-series or C-series names
Like many mobile phone manufactures, Nokia is trying to keep up the sales figures and doing things in a new way. Other manufactures are jumping on the Android bandwagon or release a completely new OS like Samsung's Bada. Nokia have already released the Maemo, but that OS is for more powerful handsets. The E-Series is full of business models already, N-Series should be familiar and we have two phones in the X-series. The Nokia X3 and Nokia X6. C5 is the first phone in the C-series. Why the new naming convention? Well, we have 216 registered Nokia models in our phone database and Nokia has started to run out of numbers. There are already models using the same name with an added Classic, Slide or Fold. The first character in the new naming convention be one of C, X, E or N, and the following number indicates in which feature range and price category the model belongs. The number range from 1 to 9 where 1 is lowest and 9 being the highest.
The new Nokia C5 is a C-series device of course. The number 5 hints that this is a mid-range model. C5 is running on Symbian S60 3rd Edition, Feature Pack 2. Other mentionable features are 720 minutes talk time, SMS, MMS, Email, Bluetooth, FM-Radio, Java, 3.2 megapixel camera with LED flash, 15fps VGA video recording, QCIF front-camera for video calls, built-in A-GPS, networks 850/900/1800/1900 WCDMA 900/2100, HSDPA with max speed up to 10.2 Mbps, 50 MB internal memory expandable up to 16 with microSD card. A 2GB microSD card is included in the package.
It is interesting to see the number of standby time hours the C5 has got from of the 860 mAh battery. An impressive 630 hours according to the official Nokia specifications. The display size of 2.2 inch and the 240 x 320 pixel resolution is not very large, but nevertheless gaining 630 hours out of a 860 mAh battery is very good. Besides the battery capacity, C5 is a phone without that something special. And it should be reflected in the retail price. Now that Nokia has made the Ovi Maps available for free for many of its older mobile phones it is no surprise to see that C5 also will have version 3.0 of the navigation solution pre-installed.
Expected retail price is EUR 135 is a little more than a Nokia 5220 XpressMusic model and should be considered quite reasonable.
The Nokia C5 will be available in the second quarter of 2010.
Nokia C5 Specifications
Size: 112 x 46 x 12.3 mm
Weight: 89.3 gram
Networks: GSM 850/900/1800/1900, WCDMA 900/2100, HSDPA 10.2 Mbps, HSUPA 2 Mbps
Display: 2.2 inch, 240 x 320 pixel resolution, 16.7 million colours TFT
Talktime; GSM 12 hours, WCDMA 4.9 hours
Standby time: GSM 630 hours, 670 hours on WCDMA
3.2 megapixel camera with VGA video recording. QCIF video call (front) camera
OS: Symbian OS 9.3, S60 3rd Edition, Feature Pack 2
Messaging: SMS, MMS, Email
Browser: Nokia Web Browser with Mini Map
Applications: YouTube, Facebook, Twitter, Ovi Share, Quick Office, Video Editor
A-GPS
Nokia Ovi Maps 3.0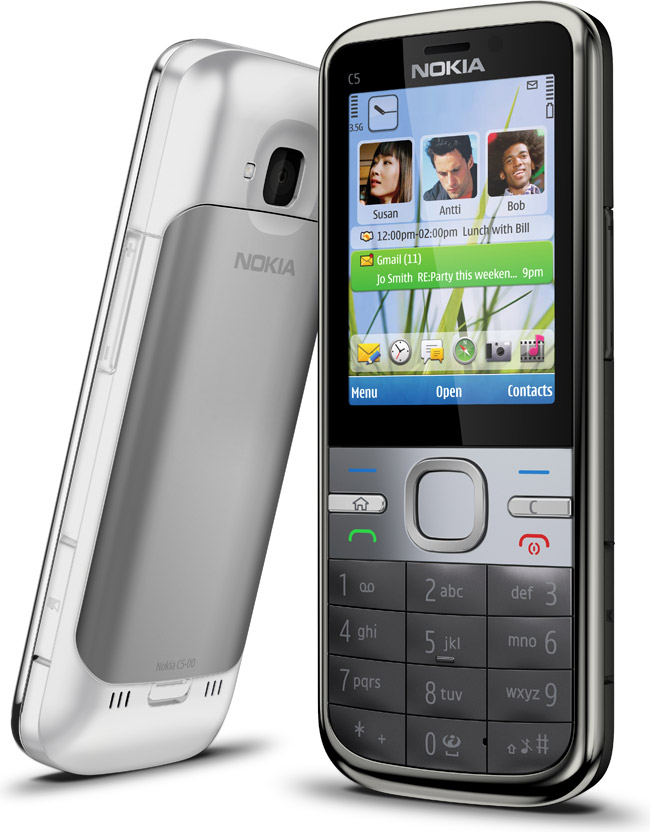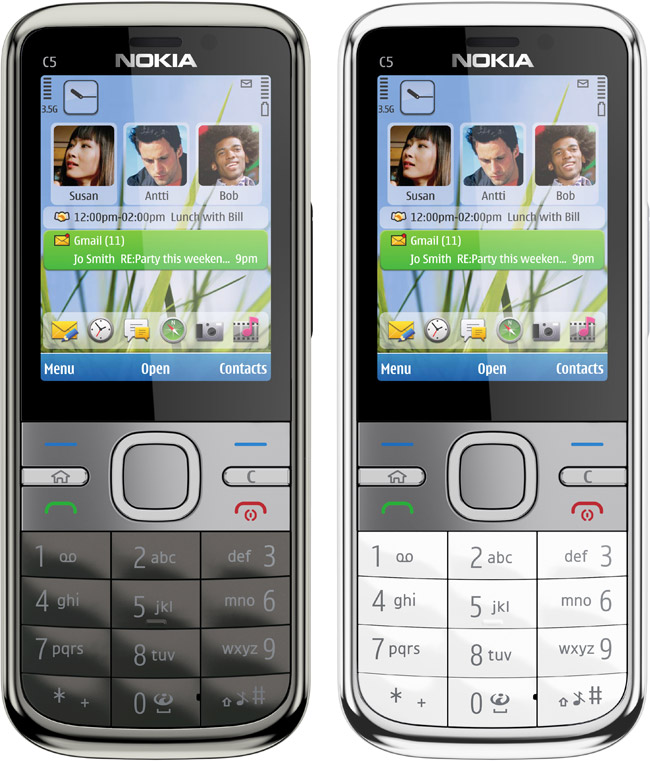 ---