New mobile phones presented on CEBIT
15 March 2003
Every spring the largest IT and Telecommunications fair holds place in Hanover Germany. This is the time when all the largest mobile phone manufactures unveils new models. It was no exception this year.
Sony Ericsson released information about their new phones a week before the annual CEBIT exhibition in Hanover. Siemens, Nokia, Panasonic and others hold press conferences during the exhibition. Read more about the latest models here.
You may have read about the 7 upcoming Sony Ericsson models in an earlier article here at Esato. It's actually only three models but they are given different model names in different markets.
Siemens has earlier presented a new range of mobile phones for the young/trendy/urban user with the Xelibri "fashion phone category". With mobile phone penetration rates in many markets at 70 to 85 percent, and overall growth stalled, the mobile phone industry needs to be reinvigorated. Siemens thinks that creating a new category in the market and thereby building demand for multiple phone ownership is an innovative step to achieve this. Time will show if there is a huge market for these kinds of phones.
Four phone models where presented the weekend just before the opening of CEBIT.
| | |
| --- | --- |
| | |
| Siemens A55 | Siemens M55 |
The
Siemens A55
is a low-budget model without a colour screen. The design is a typical Siemens. The phone has polyphonic ring tones, WAP 1.2 and picture phone book.
Siemens M55 is a colour display phone with an interesting new polyphonic ring tone composer. The phone is equipped with music composer software from Steinberg, a producer of music composing software. The software allows you to compose high quality polyphonic sounds on the M55. Six music sessions in different styles like Trance, Hip Hop, Techno or House are available.
Other features include MMS, 4096 colour display, GPRS, WAP and support for clip-on camera.

Siemens SL55
With the exciting design of the
Siemens SL55
there is a new phone type on the market. Clamshell/flip phones have been popular in the U.S and Asia while the "soap brick" model is selling good in Europe. The SL55 is a phone "split" in two slices where you draw the underlying slice down to reveal the number pad. Main features include: Tri-band, WAP 1.2, GPRS, MMS, e-mail, Java, colour display, IrDA but no Bluetooth. The phone measures 81.6 x 44.5 x 22 millimetres.
The Siemens SX1 is the company's new top of the range model. Just as Nokia did with their 3560 model, Siemens want to change the way we do input on mobile phones. A joystick and the yes/no buttons are located below the display, but the number keys are aligned vertical on both sides of the display. Giving experienced SMS users a hard time writing messages quickly. It's interesting that they have chosen to locate the keys this way, but Siemens has failed to inform the press why they did this. Do they anticipate that with such key layout, users will type in numbers and text faster? It could be that the menu navigation is faster this way, but text input is not. The operating system is Series 60 (same as Nokia 7650, 3650 and 92x0) based on Symbian OS. Some of the features that make this phone stand out from the crowd are: expandable memory using memory card, built-in camera capable of taking small video sequences, MP3 player, FM radio, Bluetooth, 65356 colour display, MMS. One of the things not mentioned in the press release is what the battery capacity this device will have. The weight is 110g and measuring 109x55x19 mm, which is slightly smaller than the Nokia 7650 and Sony Ericsson P800. Display size is 176x220 pixels. (7650 has a 176x208 pixel display while the P800 has 208x320 pixels)
---
Nokia didn't have any big surprises to show on CEBIT this year. Many of Nokia's mobile phones are so similar to previous launched models that some people say it is the "same phone, new wrapping". Nokia's Head of products Nordic, Tomas Chatzopoulus confirms to the Norwegian web site Itavisen that this is the case. Even if some of the models are very similar, they appeal to different kind of users. The small differences can be different position of keypads etc. A good example of such twin phones are the 6610 and 6100 where the difference seems to be that the 6610 has a FM radio built in, while the 6100 don't.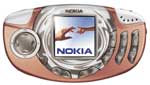 Nokia 3300
One of the new models show on the CEBIT exhibition is the
Nokia 3300
. The phone looks like the new game model N-gage from Nokia. But the similarity is only exterior wise. 3300 is more like a successor of the low-end 33** series. While the N-gage is a Gameboy wannabie with a 3D engine built in, the 3300 are a phone with Java, FM radio and MP3 player. Targeted at the game and music playing youth generation. Other features include: Colour display, FM radio, True Tones (AAC music files), included 64 MB memory card, WAP 2.0, MMS and GPRS.
The Nokia 6220 will be available in 3rd quarter 2003, and is an EDGE phone with colour display and built-in camera. The phone has a classic design and is aimed at the business market. EDGE will increase the data transfer rate with 3-4 times compared to today's GPRS. Theoretically downlink speed is 118.4Kb. Strangely enough, the 6220 do not have Bluetooth built in, but you should not be surprised if a Bluetooth enabled 6220i model is released in the near future. A list of Nokia's Bluetooth enabled phones is found here
---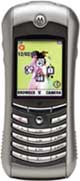 Motorola E390
Motorola
reviled two new mobile phones on CEBIT's last day; the low-budget C230 model and the Motorola E390. The
Motorola C230
is a phone with 4 level greyscale display with changeable covers, polyphonic ring tones. Nothing fancy, just a plain entry-level phone.
The Motorola E390 on the other side is Motorola's high-end phone. What's interesting with this model is that Motorola has managed to build in two stereo speakers. This is probably the first phone that will let you listen to your favourite music in stereo without using a headset. Features include: fancy design, large colour display, built-in camera, ring tone editor, Bluetooth, MP3 player, MMS, picture address book, GPRS, The Motorola E390 is available in second half of 2003.
---
Panasonic introduced four new models on CEBIT. Two phones are small and look different from the rest. The Panasonic GD55 is the low budget greyscale display model with 4(!)-tone polyphonic ring signals, dual-band and WAP 1.2.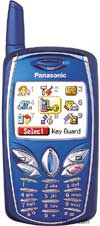 Panasonic G50
Both the GD55 and the
Panasonic G50
are really small devices. Measuring 80x43x18 makes it one of the smallest phones on the market. The external antenna may scare away users who want to upgrade their old antenna free handset. The G50 is a tri-band phone with 40-tone polyphonic ring tones, 4096 colours display and WAP 2.0 browser.
The Panasonic G60 is the antenna free alternative with WAP 2.0, 16-tone polyphonic ring tones, colour display, dual-band, MMS and an optional attachable camera.
Panasonic X70 is the clamshell version from Panasonic. It is the successor to the popular GD87. It has 65,000 colour display, MMS, e-mail, Bluetooth, IrDA, built-in camera with photo light (does this mean flash?), 16-tone polyphonic ring tones.
---

Samsung SGH-Z100
Samsung presented five calmshell models this year. The Samsung SGH-S300 was the only phone without built-in camera. It's an entry level phone with colour display, WAP 1.2.1, IrDA and tri-band.
The Samsung SGH-V200 has 180 degrees turnable camera, colour display, MMS, and polyphonic ring tones. The Samsung SGH-P400 has an unique 360 degrees turnable display in addition to the 180 turnable camera. The combination of these two makes it very easy to ajust the camera settings while taking a picture.
Samsung SGH-P410 adds even more features. The camera on this model can take series of pictures plus 40 seconds of video.
Samsung SGH-Z100 is a 3G UMTS video phone. 260000 colour display, turnable video camera, MMS, GPRS, 40-tunes polyphonic ring tones and Java.
View high resolution pictures of these phones here


---