19 February 2009 by Olav Hellesø-Knutsen

LG Arena LG-KM900 first impression - Esato Special
LG Electronics announced the LG Arena KM900 with touch display earlier this week. We have taken a closer look at the phone

19 February 2009
Last year at the Mobile World Congress, we saw that many manufactures used the term "With Touch Display" as THE marketing word. This year, all manufactures have at least one model with touch display as the main input method so they needed something else to differentiate themselves from the rest. Application Store, Megapixel, Windows Mobile 6.5, Android and Symbian has been the promo word of MWC2009. Except from Palm and LG that is. LG, with its Arena is having ease of navigation as it main feature. From what I have seen, I must say they have succeeded with this. The Arena is using a brand new interface where your finger and its gestures are in focus. LG call this new interface for S-Class UI which they tell us are specially designed to enhance the phones multimedia features. I wonder if the term S-Class is loaned from Mercedes luxury car models?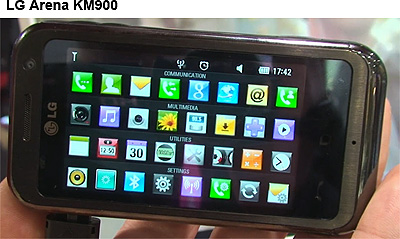 On the Arena, the desktop screen looks very much like the Apple iPhone. You can not deny that. But LG has done something Apple haven't. They have made the menu icons personalized. When holding the LG in portrait mode, you have four row of icons and they are grouped into Communication, Multimedia, Utilities and Settings rows. They can be scrolled sideways and the order of appearance can be changed. In portrait mode 4 x 4 icons are visible. If you turn the Arena 90 degrees into landscape mode, the size of the icons are reduced, and the will have access to them all. Still four rows, but now with 8 icons per row. I asked about the maximum number application short-cuts, and was told that these 32 was maximum. It is possible to install Java applications on the LG Arena, but I did not have the opportunity to find out where such 3rd part applications will be found. At the bottom of the screen when holding it in portrait mode, you will find four icons which are fixed and will always be visible. These are the applications Phone, Contacts, Messaging and Cube (main menu). Below this again, outside of the display, we will find another three essential buttons. Call, Cube and Cancel.
The LG Arena LG-KM900 which is the full name of the device, has a virtual keyboard which is of number type when Arena is held in portrait mode, and it will automatically switch to QWERTY mode in Landscape mode.
The navigation is in my opinion the most spectacular with this device, but it also have a new feature I haven't heard from a phone yet: Dolby Mobile sound. You will need to connect earplugs or use the TV-out connection to experience this enhanced sound capability as the one built-in speaker is mono only.
Arena will be available in stores in Europe in the beginning of April this year. It will be interesting to find out more about this phone. We do not know anything about the day-to-day usage and important things like battery capacity for example.
Arena photos
---