Hitachi and Seagate Developing Hard Drives for Phones
31 July 2004 by axxxr
Hoya Corp of Japan said that the two major hard disc drive (HDD) manufacturers are developing one-inch HDDs for mobile phones.
The two companies it mentioned are Hitachi Global Storage Technologies, Inc (HGST) of the United States and Seagate Technology LLC.

"HDD makers are seriously thinking of using HDDs in mobile phones," said Hiroshi Suzuki, president and chief executive officer of the company.

Hoya is an exclusive supplier of glass disc substrates for one-inch HDDs, and the announcement appears to be an indication of the development progress among the companies concerned.

In the world of one-inch HDDs, HGST has already launched "Microdrive," and Seagate announced in June that it will enter this HDD market.

"The possibility of a 0.85-inch HDD also was discussed. But the one-inch unit will likely be the choice, as it has an advantage in the unit price per capacity compared with that of a flash/EEPROM," Suzuki said.

Suzuki did not mention detailed specifications at the briefing. With regard to the HDD usage for mobile phones, Suzuki noted that HDDs will probably be used as audio players capable of storing a large number of music titles.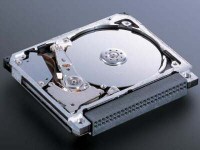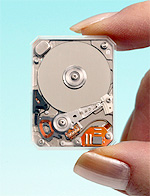 ---