Google adds Applications search as a filter to their main search engine
23 November 2011 by Olav Hellesø-Knutsen
Google quietly adds Applications search as a category for the search page sidebar. Apps for iOS, Android and PC can be filtered through the new Applications tab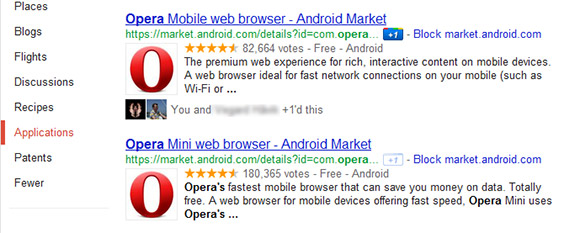 The app store specific search engines such as Android Market and iTunes are often more convenient to use and also give you more precise results. But iTunes does not have a web interface to the store, and its not always convenient to launch iTunes desktop application just to do a search in the Apple store. Here the new Google Applications Search could be handy. The Applications filter is listed in the mobile version of Google Search, but in our test the results returned was not specific Applications.
On the desktop browser, the apps returned by a search query is not for mobile OS only so the Google Search engine will return results from other sources as well. But we found that iTunes and Android Market always was the first two sources returned when doing search queries such as facebook, twitter, games, antivirus, angry birds, spotify and more. It's interesting to see that the Apple iTunes store was listed before Android Market for each of the mentioned search queries. Information about the found applications includes title, description, url, user ratings, platform, category and cost.
It's not very long ago since Google made a few other changes to how the worlds largest search engine works. They removed the option to add a plus sign in front of mandatory words where you from now on have to use quotes around "must have" search words. Some rumors say the removal of the plus character has something to do with future Google+ searches. We will seen. Yahoo and Bing still use the + sign for forced inclusion of words. The Verbatim tool was also recently added as a way to search for exact keywords.
Google earlier this week also announced a new redesigned Google Search app for iPad. The new iPad app adds instant search, browsable snapshots of previously visited pages, the +1 button, Instant Previews and more
---
Alternatively post this in the Esato forum
Please sign in to your Esato account to leave a comment regarding this article
This is only on the American google.com, not on the UK version .co.uk not sure about others...
And there's even a Patent Search!!! (didn't know it was there)

---