Bang & Olufsen's Bluetooth Medicare device
12 September 2006 by axxxr
Bang & Olufsen is better known for its Serene mobile phone aswell as for making high end audio and Visual gear,but it also has a medical devices division known as Medicom.

The company already has a product on the market that reminds patients to take their tablets:The Helping Hand.
The "Helping Handô" is a unique product that reminds a patient when to take their medication/tablets. The aim behind the device is to motivate and guide the patient to aim for and maintain a high compliance rate with their prescribed medication. In addition the device can be used by physicians to help motivate their patients to continue taking their complete course of medication.
The solution is based on blister cards and is fully customisable for clients branding requirements. The "Helping Handô" can be scaled to fit a certain blister card size or programmed to meet a prescription schedule.
The unique software reminds the user to take the medication and helps the patient keep track of how well they have been taking their medication. The patient receives feedback via a visual signal (red, yellow or green.)
A bluetooth application exists in a working prototype, this device is particularly relevant for situations where real-time data upload is necessary (eg trials where intervention is necessary to put the patient back on track). Alternatively the device can work via a USB wire cable or via a wireless transponder solution. www.medicom.bang-olufsen.com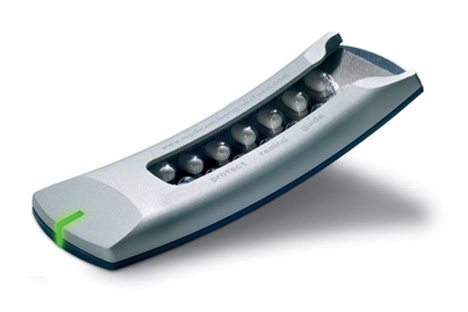 ---