---
Posted by
saeb2
UMU SonyEricsson Hack
By
Evilhawk00 ، Coderus ، AmirAshkan
1. install UMU*Hack.sisx. After installing application will be launched
2. Accept connection ask (you can use WiFi)
3. Accept trial key
4. Accept license
5. Select Yes
6. Select No, then OK
7. Select Ok - Enter 123 - Retype 123
8. Press Options - Anti-Virus
9. Go to Quarantine
10. Options - Restore - Press Yes
11. Back - Home - Exit - Uninstall UMU Mobile Security
12. Enter 123 password for uninstallation
13. Install RomPatcherPlus_3.1.sisx - Launch it - Apply Open4all - You get full access to all folders
14. Apply installserver (if red cross - go
here
) - You can install any applications without signing.
Enjoy
UMUSonyEricssonHack.sisx :
http://www.mediafire.com/?y8psh88lv5y9hm6
RomPatcherPlus_3.1.sisx :
http://www.mediafire.com/?7dmg7pnkvu46awq
[ This Message was edited by: saeb2 on 2011-10-01 03:54 ]
---
---
Posted by
OEIL
Hello , very good news for all SE Satio and Vivaz users ;
The OPDA Certificate problem is resolve .
But it is not necessary to use Rompatcher+3.1 to hack your phone ; it is possible now to sign your apps with the ""Left UP Certificate" ,and this certificate is build with 20 Capabilities !!!

download leftUp :
https://skydrive.live.com/?ci[....]3A8A8942F75%21817&sc=documents
UMU antivirus install a root certificate on your mobile .
View on my Satio :
[center]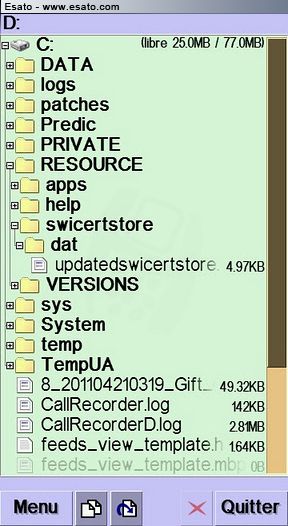 [/center]
More on my french blog :
http://mobilsym.wordpress.com[....]cat-racine-sur-vivaz-et-satio/
Thankssssssssssssss Mr CodeRus !

Now with this Certificate , it will be possible to install Qt 4.7.3 , Qt mobility , and also Python ....
( sign your apps with SIS CONTENT )
A+
---
Posted by
awareesa
The sign sis application is weird on my Vivaz: There is no option to Select the sis, key, cert file locations.
It insteads opens up a message editor that I can only input text.
Any ideas what is going on here?

---
Posted by
OEIL
Sign with your PC and SISCONTENT .
---
Posted by
awareesa
Vivaz:
I tried the hack, very easy and quick - Great instructions on first post...
However, Freesigner and Leftup files are necessary for some harder to sign apps like SMS Spam Manager...
---
Posted by
rmk152
I can confirm that this method works. I just hacked my friends Vivaz Pro and installed BAM v4.
Excellent

---
Posted by
SNEDAN
hello every one. . .please please please help me to hack my satio. . .
i tried this UMU hack bt after step 3 i got a pop up asking for the product key.i entered 123 n it pop up again n told that this is not the key for this product.so i am not crossing this step 3. . .please help me. . .thnx
---
Posted by
jorji
Try
NORTON
I am with Satio
---
Posted by
amin_1994
when i wanna select trial mod i can just see a messege : A Communication failure has occurred .
no one can help me ? im with VIVAZ . pz help me to hach my phon
---
Posted by
saeb2
this method has been expired

!
use norton method

:
http://www.esato.com/board/viewtopic.php?topic=203485&forum=35
---
Posted by
samsaifi
Great Work bro....

it's working. Thanks a lot.