---
Posted by
Jangles
got a spare unused memory card for sale as my replacement handset had an extra one.
not boxed as has been removed from a new handset.
cash only paypal or transfer.
will post recorded/signed
Also have a couple of Iphone 4 boxes available which only include the earphones if anyone has any need for them?
---
---
Posted by
Jangles
memory card now sold
have also found another 8GB micro SD card but this isnt sandisk branded. Have tried to take a picture but due to its size its not working. Ive attached an image ive found online of something 99% similar. (barring the serial number)
it has the coding C08G Japan on it with HC (4 if that makes it clearer.
offers?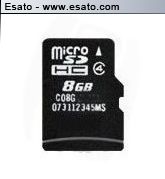 ---
Posted by
fatreg
High capacity class 4 Jangles...
Knowing this fella peeps, this will be a steal!
---
Posted by
Jangles
Cheers for the heads up Fatreg
memory card now on ebay. will accept paypal if needs be