Send photos from mobile to picture frame
10 January 2005 by axxxr
Digital Picture frame gets bigger and smarter and accepts images straight from a mobile phone.
CEIVA™ Logic Inc, provider of the world's first and only Digital Photo Receiver™ unveils its revolutionary next generation of digital picture frames at CES 2005. Reinforcing its category-leading position, CEIVA's new product line will include a large 15" CEIVA™, new broadband and wireless connection capabilities and a multitude of enhancements and styling features that consumers can look forward to in 2005. The CEIVA™ patented technology enables families and friends to share photos everyday from all over the world, accepting digital photos sent from cameras and now direct from camera phones.
A new study from InfoTrends/CAP Ventures reveals that worldwide digital camera revenue is forecast to reach $24 billion in 2004 and grow to $31 billion in 2009. CEIVA™ has responded to the growing needs of the CEIVA™ consumer by creating a unique photo-sharing device.
"We are excited to unveil a full range of product options this year to meet this growing demand in the marketplace," said Dean Schiller, CEO of CEIVA™ Logic, Inc. "CEIVA remains committed to bringing families and friends closer by offering our customers new features that will make staying connected that much easier."
Designed to resemble traditional picture frames, the CEIVA Digital Photo Receivers™ display photos they receive nightly through a phone line, and this year CEIVA™ will be rolling out new products that will offer broadband and wireless connectivity options. CEIVA Digital Photo Receivers™ do not require a computer to operate, and pictures can be sent every day from around the world.
CEIVA™ will also be introducing its new 8.2" CEIVA Digital Photo Receiver™ that will have card reader options compatible with most memory cards. The new CEIVA will stay uniquely connected with CEIVA's patented technology so photos can still be received from friends and family near and far.
Also to be unveiled in 2005 is the new 15" CEIVA™, framed in finely crafted wood with a high-resolution 15" TFT LCD panel and attractive wall mount. Each 15" CEIVA™ receives and displays 100 new photos daily and over 35,000 photos a year. The new CEIVA™ models will also have new connectivity options to receive photos through a broadband as well as WiFi 802.11b-g. www.ceiva.com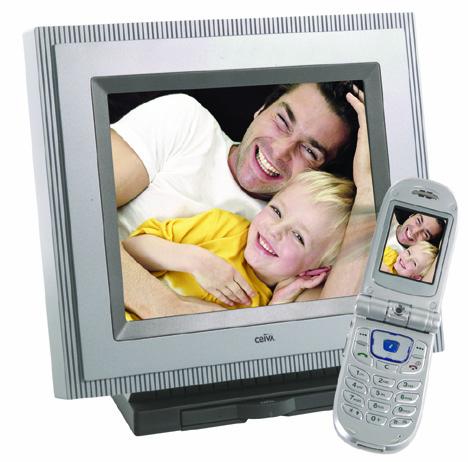 ---