Samsung Galaxy Tab sold in 2 million units. Tab 2 is on its way
28 January 2011 by Olav Hellesø-Knutsen
The Galaxy Tab is reported to have sold 2 million units in 3 months. A new Tab 2 will most likely be announced at Mobile World Congress next month
Samsung Galaxy Tab is probably the closest competitor to Apples iPad. It was announced at the IFA event in Berlin last year an despite the smaller display of 7 inch, it was soon pointed out to become a direct competitor to the successfully Apple iPad. It is running on Android 2.2 and one of the main advantages compared to the iPad is that you can make a phone call with the device. It is a mobile phone. It as simple as inserting a GSM SIM card and start to talk using a bluetooth headset or a connected headset. 500.000 of those Tabs were sold in Europe, 350,000 in the U.S and the 330,000 in Asia.
The Galaxy S which has sold in 10 million units will also get an successor soon. In first half according to latest Samsung financial report. We guess it will be announced during MWC based on a leaked Samsung Unpacked press schedule. We should expect both the Galaxy S and the Tab to see a price drop very soon.
According to Samsung, the Galaxy S 2 will have a dual-core processor and Super AMOLED Plus display.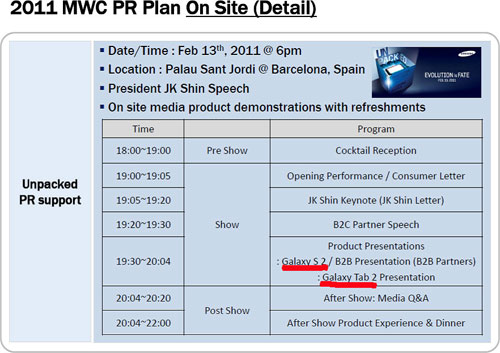 ---
Alternatively post this in the Esato forum
Please sign in to your Esato account to leave a comment regarding this article
Is Samsung using some kind of alien math? 500,000 + 350,000 + 300,000 sure ain't equal to 2 million in earth math.
Maybe Africa, Australia and South America had their share of Tabs
---