Samsung Galaxy Tab 2 soon to be announced
13 February 2012 by Olav Hellesø-Knutsen
Samsung will soon announce the Galaxy Tab 2 tablet with a 7 inch display. In the meanwhile until Samsung has done the official announcement you can take a sneak peak on the Galaxy Tab 2 product images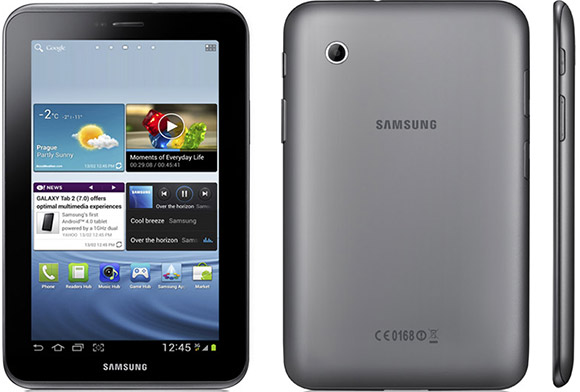 Update: Galaxy Tab 2 is announced. The specifications below are official
We are expecting the Galaxy Tab 2 to be announced at the Mobile World Congress taking place in two weeks. These are the official product images of the 7 inch tablet.
Galaxy Tab 2 will run on Google's latest Android operating system. The Android 4.0 Ice Cream Sandwich OS is unlike previous versions designed to run on both tablets and smartphones.
The new tablet will have a 1 GHz dual core processor inside as well as 1 GB RAM. The display is 7 inch large with a 600 x 1024 pixel resolution. Further specifications are: Wi-Fi, 3 megapixel main camera and a 0.3 megapixel (VGA) front facing camera. The tablet has got HSPA+ network support, Bluetooth 3.0, A-GPS and 16 or 32 GB internal memory. Storage is expandable using the available microSD slot. As with the older 7 inch Galaxy tablet, a 4000 mAh battery will power the tablet. As a fact, most of the specifications we have listed are identical to the original 7 inch Tab. The processor speed is lowered from 1.2 GHz to 1 GHz and Android 3.2 Honeycomb is thrown out in advantage for the more responsive and less power consuming ICS.
Samsung Galaxy Tab 2 7.0 highlights
Size: 193.7 x 122.4 x 105 mm
Weight: 344 gram
1 GHz dual core processor
7 inch PLS TFT display with 1024 x 600 pixel resolution
Networks: GSM 850/900/1900/2100, HSPA+ 21 Mbps
Wi-Fi b/g/n
Wi-Fi Direct
Bluetooth 3.0
3 megapixel main camera with fixed focus
0.3 megapixel front camera
Video capture 720p. Playback: 1080p
A-GPS and Glonass
USB 2.0 Host
Sensors: Accelerometer, digital compass, light, proximity
Android 4.0 Ice Cream Sandwich
Battery: 4000 mAh
The Galaxy Tab 2 will be available in two versions. One with 3G, and one without. Glonass and proximity sensor only available in 3G version
Included Samsung services
Samsung TouchWiz/Samsung L!ve Panel UX
Samsung Apps
Samsung Kies / Kies air
Samsung Hub (Readers/Music/Game and Video Hub)
Samsung Hub Widget
Samsung S Suggest
Samsung ChatON
AllShare Play
Ploaris office
---
Alternatively post this in the Esato forum
Please sign in to your Esato account to leave a comment regarding this article
And I suppose this will be iPad 3's rival?
given the rumoured ipad 3 details, I'm interested how will this be any more a rival than its predecessor? or even a rival to the ipad 2?

Here is the official Press Release:
Samsung expands the GALAXY Tab range with GALAXY Tab 2 (7.0) powered by the AndroidTM 4.0 and a 1GHz dual core processor
Prague, February 13, 2012 – Samsung Electronics Co., Ltd, a global leader in digital media and digital convergence technologies, today introduced its first line-up of tablets for 2012 with the launch of the GALAXY Tab 2 (7.0), expanding the choice of tablets to customers. Light and portable, the GALAXY Tab 2 (7.0) is the ideal personal on-the-go device, available in 3G and WiFi versions. Starting from UK, the GALAXY Tab 2 (7.0) will be launched in global market from March.
"Two years ago, Samsung GALAXY Tab began to offer customers more possibilities on the go. Since then, Samsung has actively enhanced our tablet line-up with several tablets in different sizes," said JK Shin, President of IT & Mobile Communications Division at Samsung Electronics. "The new GALAXY Tab 2 (7.0) will provide people with delighted multimedia experience and allow efficient communication."
Samsung's first Android 4.0 Tablet
Samsung's first Android 4.0 (Ice Cream Sandwich)-powered tablet offers a variety of new and improved Android OS features. An upgraded Android Market enables access to more than 400,000 applications which can be enjoyed across phones or tablets. Furthermore, a more intuitive user interface includes the ability to swipe-control applications as well as a wholly redesigned app gallery for easier sharing of content. The new OS's vastly faster performance and response times across multiple applications is further enhanced by HSPA+ 21Mbps or WiFi connectivity.
Additionally, Android 4.0 includes a selection of embedded Google applications that enables users to quickly launch sites and applications that they use frequently; meanwhile, the innovative Face Unlock feature unlocks the tablet through unique facial recognition software.
A complete experience with enriched multimedia content
The GALAXY Tab 2 (7.0) offers users easy multimedia access, playback and sharing experiences with Samsung Hub services. Samsung's Music Hub provides a full music store solution with access to over 17 million tracks. Additionally, the Readers Hub provides the user with access to over 2.3 million e-books, 3,500 magazines and over 2,000 newspapers in 51 languages, while the Game Hub instantly connects users to the latest game titles. Samsung is also introducing the Video Hub, which offers over 1,000 film titles for purchase or rent, and provides reviews, trailers and recommendations for easier content selection using the GALAXY Tab 2 (7.0).
Complementing the GALAXY Tab 2 (7.0)'s multimedia offering is Samsung's upgraded Touchwiz user interface that features Hub widgets for one-step access to users' content in Hubs; the device also presents S Suggest, a new service offering recommendations of apps suited to users' tastes directly on a home screen.
The GALAXY Tab 2 (7.0)'s superb multimedia experience is further boosted by Samsung's AllShare Play, a new content-sharing service available for the first time on any Samsung mobile device. AllShare Play allows users to play or live-stream their multimedia content on their GALAXY Tab 2 (7.0) from PCs, other Samsung smart devices as well as third-party web storages. Users can also easily transfer content to other devices or directly to web services.
Better Communication Capabilities
Connecting socially has never been easier with GALAXY Tab 2 (7.0)'s built-in powerful communication capabilities.With the voice call capability, the GALAXY Tab 2 (7.0) can be used just as easily as a phone, affording users the handy convenience of a second device in case they misplace their primary phone. It also lets users to spontaneously arrange multi-party video calls via Google+ hangouts, as well as engage in group chats or micro-communities to collectively chat or share content. In addition, ChatON, Samsung's cross-platform communication service, connects all phone users of any platform into a single community. ChatON uses phone numbers instead of ID and passwords, and provides easy instant messaging and group chatting in various formats-images, video, voice, contacts-to make messaging simple and intuitive.
Here is the official pricing and availability for the Scandinavian countries. Expected in March, the tablet will sell in both Wi-Fi-only and Wi-Fi + 3G versions.
Sweden:
Wi-Fi: 2,995SEK (450USD)
3G: 3,695 SEK (556USD)
Finland:
Wi-Fi: 349EUR (463USD)
3G: 429EUR (568USD)
Norway:
Wi-Fi: 2,400NOK (420USD)
3G: 2,990NOK (523USD)
Denmark:
Wi-Fi: 2,350DKK (419USD)
[ This Message was edited by: julias on 2012-02-13 14:34 ]
I did read this is a budget one
---