Samsung Galaxy S Advance announced
30 January 2012 by Olav Hellesø-Knutsen
Samsung today announced the Galaxy S Advance 4 inch Android smartphone. Galaxy S Advance is the successor to the original Galaxy S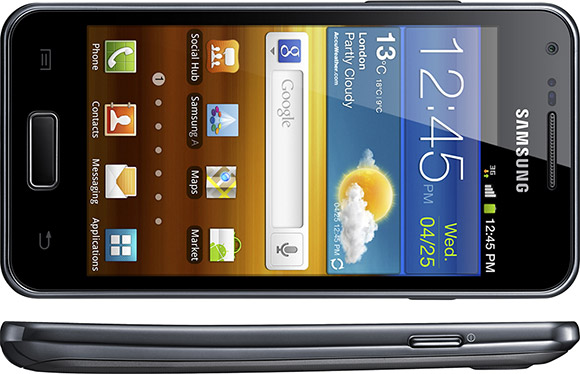 Samsung today announced what seems to be an direct update from the original Galaxy S. The Galaxy S Advance also has the curved display we got to know with the Galaxy Nexus. Sadly, it no sign of Android 4.0 Ice Cream Sandwich on this device. But we have no doubt that ICS will be available shortly after the Galaxy S Advance are available in stores.
The Galaxy S Advance share surprisingly many features as the now two year old original model. Galaxy S Advance has got some more memory, a dual core processor and updated OS. But measurable features such a the 1500 mAh battery, 4 inch - 480 x 800 pixel display, HSPA, 5 megapixel camera has not been improved. At least not on paper. The original galaxy was a huge success for Samsung, with over 10 million sold devices so using the Galaxy S as a template is probably not a bad idea.
Samsung Galaxy S Advance highlights
Size: 123.2 x 63 x 9.69 mm
Weight: 120 gram
Networks: GSM/EDGE 850/900/1800/1900, UMTS 850/900/1900/2100, HSPA 14.4Mbps
Wi-Fi a/b/g/n
4 inch Super AMOLED display, 480 x 800 pixel resolution
1 GHz dual core processor
USB 2
Bluetooth 3.0
Android 2.3 Gingerbread
5 megapixel camera, auto focus, LED light
1.3 megapixel front camera
720p video capture
3.5 mm audio jack
FM Radio
A-GPS
768 MB RAM, 8 or 16 GB storage. Expandable with microSD card up to 32 GB
1500 mAh battery
Sensors: Proximity, accelerometer, geomagnetic, light and gyroscope
Samsung Galaxy S Advance will be available in Russia in February and then later rolled out in Europe, Africa, Middle East, CIS, South-east and South-west Asia, Latin America and China. In another word, the Galaxy S Advance will be available all over the world except in the North America.
Samsung has included a bunch of well know services with the Galaxy S Advance. Just to mention a few: Samsung TouchWiz/Samsung Live Panel UX, Samsung Apps, Samsung Kies 2.0/Samsung Kies Air, AllShare, ChatON, Readers Hub, Music Hub, Game Hub. A nice touch is the Find My Mobile lost-phone management system. A missing device can be traced directly via the web or the owner can remotely wipe out all device data. These kind if services are available for free from Android Market by various anti-virus companies, but it is nice to Samsung offer this service for free to their customers.
Is the Galaxy S Advance some you could consider buying or is it outdated already?
---
Alternatively post this in the Esato forum
Please sign in to your Esato account to leave a comment regarding this article
I am starting to wonder if Samsung will ever make a phone that looks different from their others. Seriously they all look the same. And I thought the GS2 was the original Galaxy successor??

they realy need to invest in some designers, the only time their phones look good is when they are in white, but even then are a bit bland.
On the other hand some great specs there for a mid end, Samsung have mastered building great value for money smartphones.
It looks like the GS2

You're right Bonovox they are all very similar, I like the GS2 technology but really they look all too similar. They need a complete refresh and stay away from that iphone look as thats basically played out! I do like how Sony are trying different things with their new phones although they do look a little LGish on it. HTC are looking good with their phones, but I say the most sexiest phones which dont get mentioned is the Nokia's especially the Lumias, very distinctively Nokia! I like!!
Yes I like the Lumia look and also Sony/Ericsson designs are unique
I mentioned this some time ago in the iPhone thread or one of the patent litigation threads that Samsung needs to spend some money on designs for their phones. They have developed a strong reputation for good quality high end phones but it is tiring seeing the same types of phones with the same type of names.
Galaxy S, Galaxy W, Galaxy S advance, Galaxy note, Galaxy S2, Galaxy S8520, Galaxy Nexus, Galaxy Attain, Galaxy S Blaze, Galaxy S Ace plus, Galaxy M style, Galaxy S2 Duos, Galaxy Y Duos, Galaxy Y, Galaxy Nexus I 515, Galaxy R
.
It goes on and on and cheapens the brand.
[ This Message was edited by: skblakee on 2012-01-31 02:44 ]
[ This Message was edited by: laffen on 2012-01-31 13:43 ]
I still love Samsung & their power & tech but the designs are getting a little

Shame really though am sure in time it may change. I can imagine even Samsung's CEO forgets which model is which now

[ This Message was edited by: Bonovox on 2012-01-31 14:04 ]
I like the Advance S

The original Galaxy was a hugh success so why deviate too much from it`s original design ?

Yeah but you cannot be saying that in 5 years time. Samsung phones will hopefully change design before then. Don't get me wrong love Sammy but they need a new design team

---