Nokia announces three new models running Symbian Belle OS
24 August 2011 by Olav Hellesø-Knutsen
Nokia 600, Nokia 700 and Nokia 701 announced today are three touch screen smartphones running the latest version of the Symbian operating system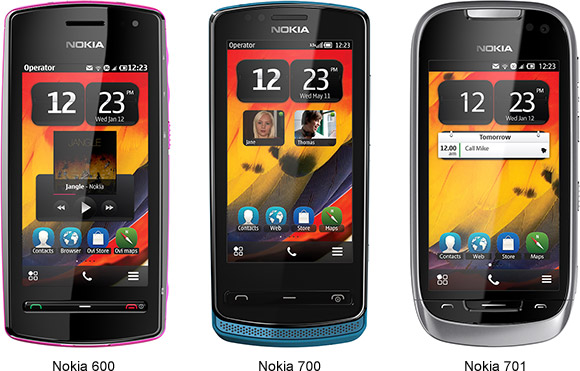 Symbian is not dead. At least not yet. Nokia are committed to support the platform five more years. We will therefore see more Symbian handset in the future. The three models announced today are the first running on the latest version of Symbian. The Symbian Belle operating system launched today will later be available for older handsets as well. The Nokia N8, E6, E7, C6-01, C7 and X7 are all compatible with the new OS and owners of these smartphones will in a short while be able to update to Symbian Belle.
New features in Belle are
6 home screens
Widgets. Re-sizable and live widgets
Notifications in a new pull down menu
Built in NFC for sharing content
Improved status bar
Modernised navigation
New apps. Microsoft Lync, Sharepoint, OneNote, Exchange ActiveSync and PowerPoint Broadcaster. All from Microsoft
Lock screen now informs about missed calls and received messages
Visual multitasking
According to Nokias new naming convention with numbers ranging from 100 to 900, the three Nokia models announced today have specs above average Nokia models. All three phones announced today has NFC and a 1GHz processor. The Nokia 701 are having a ClearBreak glass display. The 1300 mAh battery is claimed to give 17 hours/1110 minutes of talk time. It's the second best talk time we have registered in our phone directory only beaten by Nokia E5. Nokia 600 is built with music in mind where you can play up to 60 hours without re-charge the device. It also has a FM transmitter which could be useful when you want to play your songs over the car stereo. Nokia 600 is one of the few available smartphones with built-in FM antenna where there's no need for an connected headset. Nokia 700 is the smallest smartphone from the Finnish company measuring only 110 x 50 x 9.7mm.
Nokia 600 highlights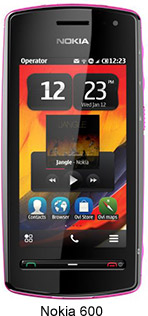 Weight: 100 gram
Size: 111 x 53 x 14.25 mm
Networks: GSM/EDGE 850/900/1800/1900, WCDMA 850/900/1700/1900/2100, HSDPA 14 Mbit/s, HSUPA 5.7 Mbit/s
3.2 inch display, 360 x 640 pixel resolution, 16 million colours, capacitive touch screen
5 megapixel camera, LED flash, face recognition, geo tagging
720p HD video capture
Wi-Fi
Bluetooth 3.0
A-GPS
NFC
FM Radio with built in antenna, FM transmitter
Both USB connector and 2 mm charging connector
Sensors: Accelerometer, magnetometer, proximity sensor, ambient light sensor
2 GB built in memory. Expandable up to 32 GB with microSD card
1200 mAh battery
Talk time: 15 hours
Standby time: 540 minutes
Java
HTML 4.1
Nokia Maps with free car and pedestrian navigation. Battery last 10 hours using car navigation
Symbian Belle operating system
Nokia 700 highlights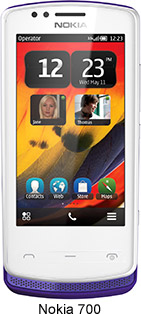 Weight: 96 gram
Size: 110 x 50 x 9.7 mm
Networks: GSM/EDGE 850/900/1800/1900, WCDMA 850/900/1700-2100/1900/2100, HSDPA 14 Mbit/s, HSUPA 5.7 Mbit/s
3.2 inch display, 360 x 640 pixel resolution, 16 million colours, capacitive touch screen
5 megapixel camera, LED flash, face recognition, geo tagging, f/2.45
720p HD video capture
Wi-Fi
Bluetooth 3.0
A-GPS
NFC
FM Radio with built in antenna
Both USB connector and 2 mm charging connector
Sensors: Accelerometer, proximity sensor, ambient light sensor
2 GB built in memory. Expandable up to 32 GB with microSD card
1080 mAh battery
Talk time: 7 hours 10 minutes
Standby time: 465 minutes
Java
HTML 4.1
Nokia Maps with free car and pedestrian navigation. Battery last 10 hours using car navigation
Symbian Belle operating system
Nokia 701 highlights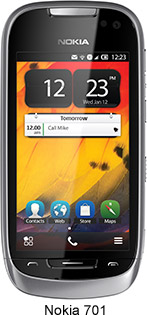 Weight: 131 gram
Size: 117 x 56.8 x 11 mm
Networks: GSM/EDGE 850/900/1800/1900, WCDMA 850/900/1700-2100/1900/2100, HSDPA 14 Mbit/s, HSUPA 5.7 Mbit/s
3.5 inch display, 360 x 640 pixel resolution, 16 million colours, capacitive touch screen
8 megapixel camera, LED flash, face recognition, geo tagging, f/2.8
720p HD video capture with image stabilisation
Wi-Fi
Bluetooth 3.0
A-GPS
NFC
FM Radia with built in antenna, FM transmitter
Both USB connector and 2 mm charging connector
Sensors: Accelerometer, magnetometer, proximity sensor, ambient light sensor
8 GB built in memory. Expandable up to 32 GB with microSD card
1300 mAh battery
Talk time: 17 hours
Standby time: 504 minutes
Java
HTML 4.1
Nokia Maps with free car and pedestrian navigation. Battery last 10 hours using car navigation
Symbian Belle operating system
---
Alternatively post this in the Esato forum
Please sign in to your Esato account to leave a comment regarding this article
---