Nokia Announces the 6500 classic and Nokia 6500 slide
1 June 2007 by axxxr
Nokia announces two new handsets, the Nokia 6500 classic and Nokia 6500 slide.
Nokia today reaffirmed its leadership in driving the benefits of third generation technology to the mid-range market with the announcement of two new handsets, the Nokia 6500 classic and Nokia 6500 slide. Designed to be precisely balanced in the hand, with large keys and ergonomically correct dimensions and surfaces, both phones have been created with maximum usability in mind. Along with third generation WCDMA technology and sleek, contemporary designs, these new devices feature carefully engineered touches that help to ensure that the beauty endures.
"Nokia is a recognized trailblazer of the 3G revolution and a pioneer in the use of new and innovative materials for mobile phones. With the Nokia 6500 classic and Nokia 6500 slide, Nokia is skillfully combining these areas of expertise to deliver a compelling blend of design and technology at a mid-range price point," said Peter Ropke, Senior Vice President, Broad Appeal Business Unit, Nokia. "While features like the aluminum "loop" structure of the Nokia 6500 classic or the Carl Zeiss optics found in the Nokia 6500 slide separate these devices from the pack, it is the skillful balance of features and style that will make them irresistible to customers."
Nokia 6500 classic
Instantly recognizable by its seamless case crafted from 360 degrees of anodized aluminum, the Nokia 6500 classic is a 9.5mm thin statement of unsurpassed attention to detail. As an expression of individuality, each Nokia 6500 classic is individually polished, ensuring that no two phones are exactly alike, while diamond polishing used on the beveled display aperture and cold stamped logo demonstrate the highest levels of craftsmanship.
However, the attention to detail found in the Nokia 6500 classic is much more than skin deep. Featuring dual band 3G technology for fast and easy downloads and browsing and quad-band GSM for worldwide roaming, the Nokia 6500 classic delivers state-of-the-art connectivity options for the most demanding of customers. A full 1 GB of internal memory means that the Nokia 6500 classic has capacity for far more pictures, videos, contacts, songs, messages and other content than the vast majority of other mid-tier mobile phones.
Nokia's dedication to usability is also evident in the Nokia 6500 classic. The Nokia Series 40 interface, familiar to millions of users around the globe, provides easy access to the powerful feature set, including a 2 megapixel camera with dual LED flash and an integrated music player. Furthermore, a unified micro-USB connector simplifies charging, audio and data connectivity by consolidating them into a single compact port. This allows for the Nokia 6500 classic to be easily used as a high-capacity flash drive or to be charged directly from a laptop computer - all with one cable.
The Nokia 6500 classic is expected to be available during the 3rd quarter of 2007 at an estimated retail price of €320 before taxes and subsidies.
Nokia 6500 slide
Featuring an enthusiast-quality 3.2 megapixel camera with Carl Zeiss optics and the ability to easily share pictures, videos and even video calls on a television, the Nokia 6500 slide brings unsurpassed levels of imaging and sharing to the mid-range market. Additionally, the Nokia 6500 slide delivers a refined tactile experience with its elegant brushed stainless steel finish and smooth slide mechanism.
The 3.2 megapixel camera with Carl Zeiss optics found in the Nokia 6500 slide marks the first time that mid-range camera phone consumers have been able to experience the outstanding imaging capability of Carl Zeiss optics. The addition of autofocus, a dual LED flash and 8x digital zoom optimizes the Nokia 6500 slide for creating high-caliber images. Using the speed of 3G technology, these images and videos can be quickly shared with friends around the world, while the TV-out jack allows them to be instantly viewed on any television with standard RCA inputs. The TV-out feature can also be used to allow an entire group of people to simultaneously enjoy the fun of video calling.
Fashioned to stand apart from the crowd, the Nokia 6500 slide incorporates a number of design elements not often found in a mid-range device. Ensuring that the sophisticated brushed stainless steel body retains its timeless beauty, a unique hard coating helps to prevent scuffs, scratches, and even fingerprints. Precision engineering of the slide mechanism means that the Nokia 6500 slide feels solid in the hand, yet moves with a smooth, fluid action to create a decidedly upscale user impression.
The Nokia 6500 slide is expected to be available during the 3rd quarter of 2007 at an estimated retail price of €370 before taxes and subsidies.For more information, please visit
www.nokia6500series.com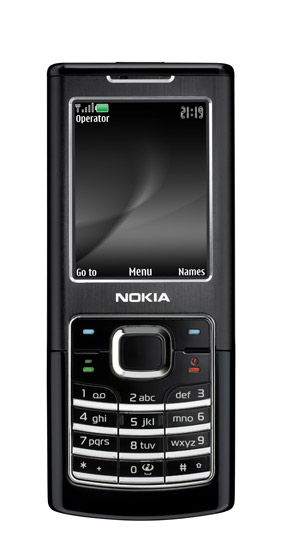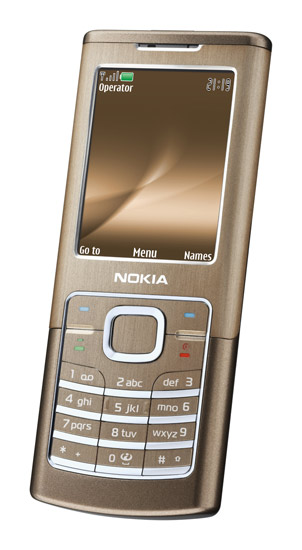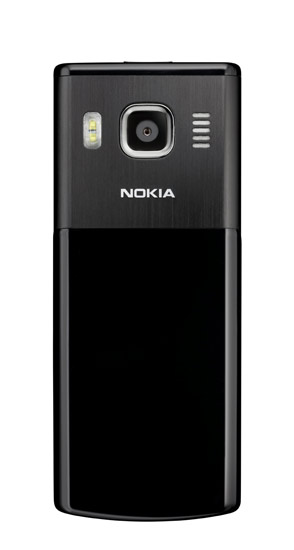 ---