Nokia announced the X3 Touch and Type
17 August 2010 by Olav Hellesø-Knutsen
Nokia today announced the Nokia X3 Touch and Type mobile phone. It is the first model from nokia having the combination of a touch display and a 12-button keypad
In addition, the Nokia X3 Touch and Type is running on Series 40 which are Nokia's mobile phone operating system for entry level devices. The Nokia X3 Touch and Type is for those who are used to typing text with one hand quickly. Nokia must have done some tweaks to the S40 operating system, as input via the screen requires larger selectable elements. As you can see from the illustration picures below, the X30 Touch and Type is missing the usuall navigation key located directly below the screen. Instead we have four main keys for quick access to calls, messaging, music player and end call/power off key. The display is 2.4 inch large which is the same size as the now retired Sony Ericsson G700 touch phone with number keys. I am sure the user interface has improved a lot since 2008 when the G700 was hot, and I think the release of a mobile phone with a combination of a small touch screen and the usual number keys is a clever move by Nokia. We have no information about the CPU powering the Nokia X3, but it is most likely a step up from older S40 devices as touch screen user interface requires more animation on screen and therefore more processing power. I am sure the CPU powering the device is up to the task.
Most touch screen phones available today also has the ability to install downloadable applications. Apple's App Store, Android's Market or even the upcoming Bada platform from Samsung will be competing for developers for their platform. Nokia is no exceptino so they are offering free and paid applications and games for S40 devices for the X3 Touch and Type from the Nokia Ovi store.
Nokia X3 Touch and Type main features
- Weight: 78 gram
- Dimentions: 106 x 48 x 9.6 mm
- 2.4 inch resistive touch display, 240 x 320 pixel resolution TFT, 262000 colours
- WiFi
- 3G and HSPA
- SMS, MMS, Email
- 50 MB memory, expandable up to 16 GB with microSD card
- 5 megapixel camera. Video recording QVGA at up to 20 fps
- Battery: 17 days standby and 5 hours talktime
- FM radio
- Bluetooth, USB and 3.5 mm AV connector
- Opera Mini web browser
- Operating system: Series 40 6th edition
- Twitter and Facebook applications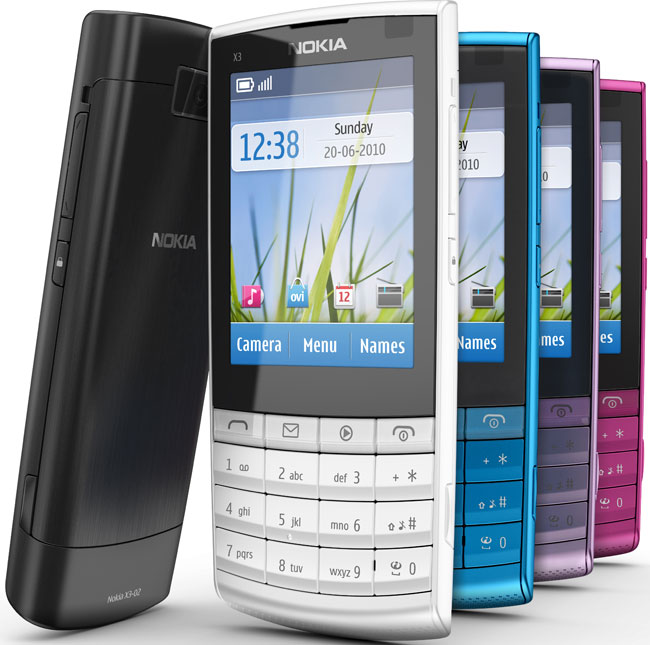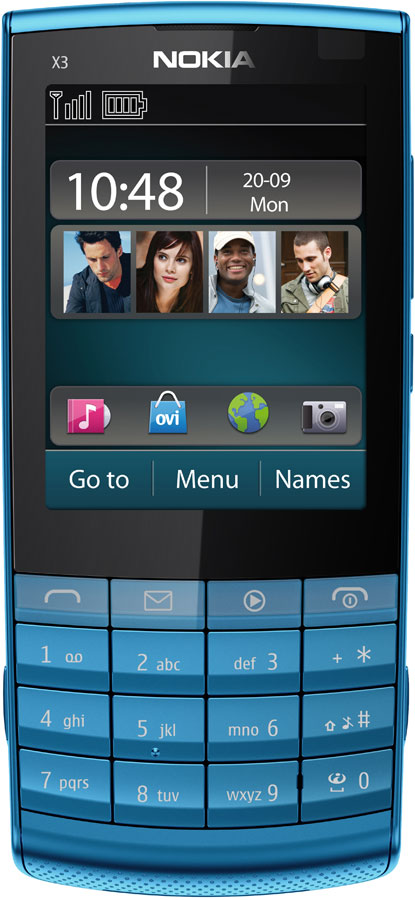 Nokia X3 Touch and Type comes in five coulour variant and should be available in selected markets in 3rd quarter this year.
---