---
Posted by
laffen
Apple has taken down its online store ahead of the expected Iphone 5 announcement which will take place later this evening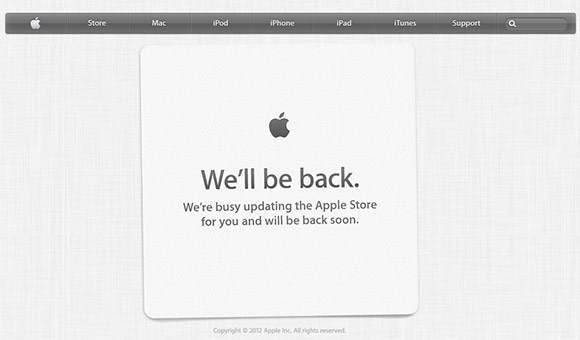 Esato News
---
---
Posted by
Miss UK
Thats no good I wanted to see how much the new headphones were from this new iPhone 5

---
Posted by
Miss UK
StOre is up in running now
Like all the new improved iPods but not that Apple Lumnia one

How much are them freakIng iPhone 5 headphones separately
I want them

---
Posted by
JiggyJaggy
Wow I just tried to pre-order one and already there is a 2 week dispatch time. Didnt get a look in!
---
Posted by
Miss UK
You will get one on contract though
But will have to pay twice more then
That's the mistake I made with my 4S
Wish I just waited and bought it sim free
Online in the post instead of trying to reserve
At the apple store which is a blooming joke
The site cannot handle to much traffic and is so slow
If u go on site at 9pm try n reserve have a lot
Of patience

---
Posted by
JiggyJaggy
Does the pre-order not just mean you are ordering one sim free though? I will just cut my sim down to a nano sim the same way when I went from iPhone 3G -> iPhone4.
---
Posted by
Miss UK
The apple store handsets are unlocked its just the ones that are obtainable via the networks
that are locked to the networks!
sheesh I just checked my Emails and ive recieved about 5 messages about pre-ordering this new iP5 lol
the contracts don't look to bad from Orange via 4G tariffs

I cannot get this iPhone though only the Sporty version im allowed

bring it on next year

Please post ur verdict on ur new iPhone anyway when u get it

---
Posted by
Marly
@JiggyJaggy:
Have read on Twitter that the nano-sim is thinner, which is why it wouldn't be possible to cut an existing sim, so you'd need a new one.
Dunno if this is true, never seen a nano-sim IRL yet.
---
Posted by
laffen
The older SIM's are 0.76 mm thick. The nano-SIM is 0.67mm so the older SIM-cards will not fit in an Iphone 5