---
Posted by
slyboy_12
vann_flyheitz

- Source

Hacking S60 v3-5 and Signing .sis files
Hi guys, you are having a Symbian phone OS9, and you're having be in a devided mind as to what to do to install an application without report "certificate error" also hack your phone. Hacking phone is not too hard, but some people don't know how do you should to begin. This thread will say detail to help you get which you want.
All steps of preparing for hack your phone include of:
1 - Get your certificate is generated with your imei (maybe you don't need it if your phone belong to Pre-FP1 (or Symbian OS9.1) devices and some of phones FP1 (Symbian OS9.2) with old firmwares)
2 - Tools for hacking (usually it's HelloOX and Hellocarbide)
3 - Perform hacking phone.
We will start now!
1. Get your certificate at
http://cer.opda.cn/en/index.php?module=index
OPDA is the largest website provide certificate for you. You may have get your certificate as least about some hours and maximum about 1 day. The most importance, you need have a account there.
- Now you register new account.
- Go to this form and let you fill in all of fields, last Press "Submit and register" button.
- After register successful, you log-in and select "My Certificate"
- Now you will see your browser like me. Hit Apply cer
- The form of applying cer showing, you enter all informations required, and select "Submit application" button
- Report your work successful
- Then the system redirect you here automatically. You will see you be in location same this pic below. I think you understand it, Sate of your apply is now apllying, and you need wait till it's available
- After some hours later, you login again and select "My certificate" and you will see the State has changed to Normal meaning your certificate is available. Click to .cer, .key terms to download them.
1.1 - Sign applications with your .cer & .key files that you got.
- Go to here meaning you have got your certificate that your need to sign application. Now, you need setup this signed-tool on your PC - Its name is SignSIS-GUI.
Download here
or attachment below
After setup complete, open SignSis and do same below:
1. Press button 1 then locate to the path of .cer file
2. Press button 2 then locate to the path of .key file
3. Press button 3 then locate to the path of application file
4. Press SignSiS button - 4
- And a small pop-up window appear with "Successful signed!"
- OK. Now let you transfer the application file signed to your phone and install it.
=-=-=-=-=-=-=-=-=-=-=-=-=-=-=-=-=-=-=-=-=-=-=-=-=-=-=-=-=-=-=-=-=-=
Hellocarbide (Drakkarious) hacking method
This method only for Pre-FP1 devices (Symbian OS9.1 phones) and FP1s (Symbian OS9.2 phones). All of Pre-FP1 phones can hack successful by using this method. But with FP1 phones, only working with old firmwares
The advantage of this method is you can hack your phone without certificate
The most importance, you need to identify (know) your phone is belong to Pre-FP1 or FP1. List of devices correlate with Feature Pack below:
[CENTER]Pre-FP1 devices:
-------------------
Nokia N77
Nokia E61i
Nokia E65
Nokia N93i
Nokia N91 8GB
Nokia E62
Nokia E50
Nokia 5500
Nokia N93
Nokia N73
Nokia N80
Nokia N71
Nokia N92
Nokia E70
Nokia E60
Nokia E61
Nokia 3250
FP1 devices:
---------------
Nokia 6124 classic
Nokia N82
Nokia N95-3 NAM
Nokia E51
Nokia N95 8GB
Nokia N81
Nokia N81 8GB
Nokia 6121 classic
Nokia 6120 classic
Nokia 5700 XpressMusic
Nokia 6110 Navigator
Nokia E90 Communicator
Nokia N76
Nokia 6290
Nokia N95
[/CENTER]
Perform
- Download Drakkarious 3.01 FP1,FP2 & PreFP1.SiS
- Set your date time back to 01/01/2007. If you don't set to this time, you will can't install Drakkarious 3.01 FP1,FP2 & PreFP1.SiS
- After setting date time, now let you install Drakkarious 3.01 FP1,FP2 & PreFP1.SiS
- Note: During process of installing, when you go to this step.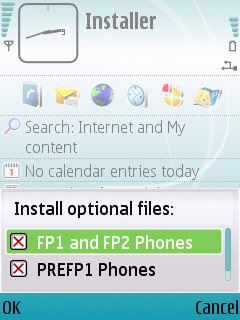 It will show an optional to ask you select to install files. This is the most important step. You need know your phone belong to PreFP1 or FP1 phone. Let you see carefully the list above i gave. If your phone belong to PRE-FP1, let unmark FP1 and FP2 phones and reveser unmark Fre-FP1 phone if your phone is FP1. Then select OK.
If you mark wrong, meaning the installserver.exe file will be installed incorrect and not working with your phone, more dangerous it maybe do your phone have error "file corrupted". But you can hard reset to pass this error.
- Go on and in some seconds later your installing done. Now you go to Applications folder on your phone. You will see 4 applications are X-plore, Hellocarbide, CapOn, CapOff.
- Now open X-plore, Press Menu, then go to Tool/Configuration. You need check all of box
- Then select Back, and remember that don't exit X-plore. Now you press Menu key on your keyboard phone. And you will back to Menu phone, go to Applications folder and open Hellocarbide.
- In Hellocarbide, select Options and then Menu1
- Then you will see this screen show "Done...probably". Select Yes
- And Hellocarbide exit automatically. Now you press and hold Menu key till the option board appear, select X-plore.
- Now in X-plore, go to C drive and you can see Hack.rar, open it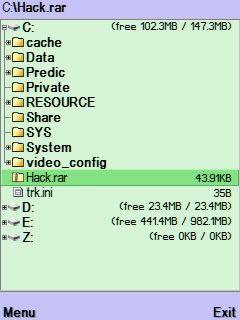 - Inside that file have installserver.exe and CProfDriver_SISX.ldd, you mark all of them. Then select Menu >> Extract to... and move highlight to C:sysbin, press OK
- Go to here meaning you complete of hacking your phone. The last step is restart your phone and install all application unsigned after your phone turn on.
Good luck.
=-=-===-=-=-=-=-=-==-=-=-==-=-=-=-==-=-=-=-==-=-=-==-=-=-==-=-==-=-==-=-
HelloOX hacking method
HelloOX is the easiest and fastest to hack your phone, and it the best tool hacking phone cos' it can hack various of phones and almost new Symbian phone.
But using HelloOX to hack your phone, you need sign it before installing.
- So the first step, you need sign HelloOX.
- After signing HelloOx complete, install it on your phone.
- With no problem, now you have HelloOx in Application folder.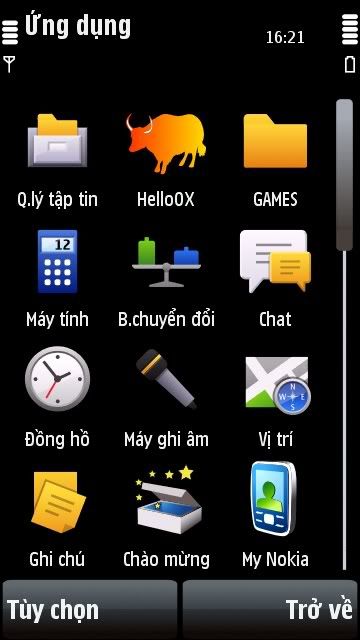 - Open HelloOx and it will run automatically. You can see it will show "Installing Rompatcher"
- And last, you will say "Eveything done,...", select Ok and now you can see Rompatcher beside HelloOx.
If your phone is FP1 phones, when you go to this step meaning your phone is hacked. He he,
If your phone is FP2 phone, now you need open Rompatcher and you can see two patches Installserver_FP2 and open4all. Select options, then highlight All patch select Apply
Addition, highlight in installserver_FP2 then press options, select Add to auto.
OK. Now your phone is hacked. You can install all unsigned applications without "certificate error".
All credits goes to
FCA00000, leftup, Zorn, DeltaFoX, wadowice, SWmail, abgnokia, Il.Socio, @ndy, GANG's brothers, Thanks to all people who made this possible!
SignSIS-GUI_v1.1.rar
COMPLETE HelloOX_unsigned & Hellocarbide ATTACHMENT DOWNLOAD HERE
note: Paki try na lang po sa unit nyo, HelloOX tested ko sa unit ko e61i, kaya ko ito linagay dito para may another back-up data tayo.
[ This Message was edited by: slyboy_12 on 2010-04-14 08:32 ]
---
---
Posted by
Ke
Thanks kuya!

---
Posted by
slyboy_12
On 2010-04-10 17:08:00, Ke wrote:
Thanks kuya!

Welcome po



this post will be a future reference.
dagdagan nyo nalang po kung meron. thanks
[ This Message was edited by: slyboy_12 on 2010-04-11 08:50 ]
---
Posted by
boy.in.PINK
I suggest to rename this thread to
"Hacking S60 v3-5 and Signing .sis files"
.
this is useful BTW, to future Satio and Vivaz users.
---
Posted by
exaflare23
Ehem! Excuse me po! Eto bang thread ay may basbas mula sa kabila?
baka mayari tayo nyan,sabihin gaya gaya lang mga tao dito, same title and same contents
etong thread na to ang nakita ko sa kabila nuon kaya ko nahacked ang n82 ko.
---
Posted by
stnx
2nd d motion po ako. Nakta ko din po ito s kblang bkod sana naipaalam ng maaus. Newei , gamit k pang hack ng phone k is binpda hacking kit.
---
Posted by
slyboy_12
3rd the motion ako



joke lang po
kung ano po ang magiging pasya ng mga mods, smod, natin dito, kayo na lang po ang bahala. may paglalagyan naman po ito post eh. (trash can)
kung makakasama sa imahe ng mga taga esato.
sakin lang naman e, para narin sa mga di pa nakakaalam nito. hindi makipagpaliksahan o pagalingan.
di ko nga sana gagalawin ibang laman nito or title, para alam agad kung saan man ito galing.
br.
---
Posted by
exaflare23
@sly
Alam mo kasi ngyari na ang ganito dati yung thread na "all about opera mini" eh napunta sa kabila ng wala manlang basbas mula dito o paalam man lang sa original author, same title and same contents.
kung halimbwa ikaw ang original author at nakita mo ang thread mo kabilang forums same title same contents,tapos pangalan mo hindi included,ok lang sayo yun?
kahit hndi credits basta may pasalamat lang dun sa 1st na gumawa ok na yun sa kanya, sa dami ng nabasa ko threads dun sa kabila ganun sila kastrict pag dating sa thanks or credits.
---
Posted by
mrjulius

naku saan galing to

---
Posted by
slyboy_12
salamat sa paalala @exa..
sa tanong mo. sagot ko no problem yon sakin
(ewan ko lang sa iba).
kung ako nga ang Orig. Author, kung papansinin natin ang exact date at oras
kung kasama man sa paggawa ng new post. malalaman na natin kung sino talaga ang nauna talaga.
-=-==-=-
lagyan na lang natin ng kung saan galing or sino ang nagpost nito.
br.
---
Posted by
Biomaxxfirre
Help..i cant hack my Nokia N82 (12.01)
RM-313 v35.0.002
pls teach me how to do it..
---
Posted by
goarthur77
marami na paraan to hack a symbian phone, without opda, without pc, without helloox.
---
Posted by
Dksmile
hanapin mo ung thread ni tol rexidi at huzkyzel. working un.using cp only.