---
Posted by
Squace
You will be surprised to learn how easy it is to make your blog available to mobile users. The only things you need are your blog's RSS-feed and a nice background image. And it's almost as easy to add more tabs, for example a page describing yourself and your blog.
Try it here:
http://squace.com/create-light/
Any blogger or other content provider can build sites and publish them at no charge. Users download and use Squace for free. They only pay the regular data traffic charge to their operator. Squace is optimized to save data traffic, making it cheaper than surfing through a regular web page.
Please let us know what you think about us.
---
Posted by
Squace
Who can make the funniest mobile site in Squace?
---
Posted by
Squace
This is an example: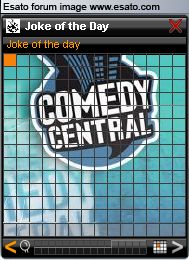 Comedy Central – Jokes
http://www.squace.com/url/htt[....]atesite.action?siteid=22956178