Sony Ericsson K700 review
May 12, 2004

The camera resolution is expanded up to VGA quality. That means you can capture still pictures up to 640 x 480 pixels in size (0.3 Megapixels). It's still no substitute for your old digital camera but the quality of the relatively small pictures has improved. See example of the three different resolutions here. Sony Ericsson S700 will in comparison be shipped with a 1.3 Megapixels camera. The main attraction about the camera is that it also can record video clips. The default settings are to limit the recording time to 10 seconds. These small clips can be sent by MMS. But you are not limited by the 10 seconds. Just change the settings to "unlimited" and the only limitation is the storage space left of the initially 32 MB free memory. My example clip (requires Quicktime 3GPP) is recorded in 176x144 resolution and occupies 145Kb. It is 16 seconds long and with recordings under similar conditions you could take a 58-minute short movie, even longer with a 128x96 pixels recording. Several filters are available to the photographer. Some useful and some for show-offs.
The easiest way to start the Camera application and capturing the moment is by pressing a dedicated camera button located on the top left side of the phone. The same button can be used to take pictures while using the screen as a viewfinder. The built in photo light improves the quality of pictures take in dark environments, but the range is low, so don't expect miracles. Up to 4x digital zoom will bring you closer to the object, but image quality will be reduced. I'm not very found of the digital zoom feature in cameras. Zooming can be done just as easily with applications like Photoshop at a later stage.
A new application called Media Player is the starting point that provides easy access to stored and streaming video clips plus audio files. Sony Ericsson K700 can be used as a MP3 player, but the 32MB limits the number of songs you can bring with you. Too bad it is impossible to expand the memory. File types supported by the Media Player are AAC, MP3, WAV, AMR, MIDI (Polyphonic) and the MPEG-4 video format. From the Equalizer sub-menu, a couple of pre-set and adjustable elements can change
Running Java applications feels much smoother than before. More processing power has been dedicated to the games and a new Java 3D engine also improves the experience. The K700 support J2ME (Java 2 Micro Edition).
Like most new Sony Ericsson phone models the K700 also support themes. Themes can be downloaded from several sites including Esato, and by changing theme the K700 will get a completely new look. Background images, text colours and text background colours, default ring signal plus more than dozens of other colours and images are changeable. The creation of themes is not done within the phone, but must be created using freely available Windows applications like the Sony Ericsson Themes Creator.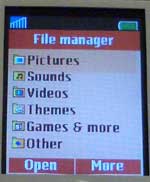 Sony Ericsson K700 has applications to handle a large number of files types. To manage these files the File Manager application comes handy. The File Manager has 6 root folders in where you can store sub-folders. These are Pictures, Sounds, Videos, Themes, Games & More and Other. All image file types received via MMS, Bluetooth, infrared, downloaded from WAP or taken with the camera are automatically saved in the Pictures-folder. It is not possible to save images to one of the other folders. All recognized file types are stored in their designated folder. If you receive a file with an unknown file extension, the file is placed in the Other-folder. The File Manager let you mark, move, rename, copy and delete files one by one, or several files at the same time. Operations to multiple files are possible because you can mark the files one by one before selecting an action to perform.
Music DJ is an application for composing your own polyphonic ringtones. The application first appeared in the T610 so many readers will be familiar it. You create a melody by inserting segments of music into a blocks displayed in horizontal rows for each instrument. The available segments are divided into four parts of a song: Intro, Verse, Chorus and Break. When you play the melody, the blocks containing music in each vertical column will be played at the same time. Example tone
Since the test unit was a prototype, I did not have access to bundled software or user manual. There were also two cool features found in the K700 that I did not manage to test: Remote Screen application where images or sound can be sent via Bluetooth to a Bluetooth Media Viewer MMV-100 allowing you to view or listen to captured images or sound on a TV. The other application is the Remote Display. This is an application where you can use the K700 as a remote control for your computer. Get your PowerPoint presentation started, and slide through it with your K700. Remote controlling a PC or Mac have been possible before on older models, but then only with third party applications like Christersson's PcControl or Salling Clicker for Mac. This is the first time Sony Ericsson includes such type of software with a phone. Sony Ericsson does also include a couple of other useful applications in the K700 phone kit. Sony Ericsson Video Editor software for editing of video clips, in addition Adobe Photoshop Album 2.0 Starter Edition for image editing.
Conclusion
The K700 is the best mobile phone from Sony Ericsson so far. The exception is of course the P800 and P900 PDA mobile phones, but these are PDA models aimed at the corporate market and twice as expensive. While we are waiting for the camera/mobile phone S700 to come out in Q4 this year, the K700 is for sure the best mobile phone small enough for most pockets and cheap enough for some wallets. The 176 x 200 mm 65,536 color TFT display is large and clear. Battery performance is good and the phone is full of features you would ever want. What's missing is something you'll never get enough of: possibility to add more storage space. Yes, the 32MB seems large enough on paper, and Sony Ericsson claims that 450 images can be stored simultaneously. But we all know that when you have taken a couple of high-quality images, downloaded a couple of ring tones, themes, wallpapers and recorded some video clips you'll have to start deleting files.

Follow the Sony Ericsson K700 discussion in our forum