Design
Model
Sony Ericsson T700
Form factor
Block
Weight
78 gram
Dimensions (HxWxD)
104 x 48 x 10mm
Operating System
Other
Communication
Networks
2G - 850/900/1800/1900
3G - 2100
HSCSD
GPRS/EDGE
/
UMTS
HSPA/HSPA+
/
WiMAX
LTE (4G light)
WLAN / Wi-Fi
Wi-Fi Hotspot
Wi-Fi Direct
SMS/MMS/Email
//
Connectivity
HDMI out
USB port
MHL
Bluetooth
Bluetooth version
NA
DLNA
GPS/Glonass
/
ANT+
IrDA
NFC
Camera
3.5 mm audio connector
Camera
Example photos
Camera resolution
3.2 megapixel, 3x digital zoom
Image Stabilization
BSI sensor
Camera Flash/Light
Flash type
NA
Video recording
Video capture resolution
NA
Display
Second Camera
Yes
Display size
2 inches
Touchscreen
Colour display
Number of colours
262,144
Display resolution (WxH)
240 x 320 pixels
PPI
200
Second Display
NA
Hardware
CPU
NA
GPU
NA
Memory
25 MB + 512 MB on M2 card. Expandable
Micro SIM
Dual SIM
Multimedia
MP3
Ringtones / Music file format
Polyphonic, MP3
Java
Games
Java
FM Radio
Power management
Battery
950 mAh
Standby time (h)
370
Talktime (m)
570
Features
Wireless Charging
Browser
2.0 XHTML
Calendar
Voicedialing
IP Code
NA
Predictive text
RSS reader
Voicememo
PC Synchronization
SyncML
NA
Website
Website
Price history


View


View Chart
NA = Not Applicable. No data available
Loving my T700Pros
Couldn't bare the thought of such a fantastic phone not being available over here in the UK so had mine imported. A true texters phone if ever there was. Fingers glide effortlessly over the beautifully profiled buttons. A far greater successor to the t610 than the t650 (dimples on my thumbs just did nothing for me if I'm honest). Does everything it says it does on the tin and does it looking damn gorgeous too
Cons
Some software issues noted. For reason known only to itself the phone, on occasion freezes for upwards of a minute before eventually releasing itself. Also over time some menu option text seems to disappear cured only by shutting down and restarting. All in all nothing really to spoil an otherwise fantastic phone as long as Sony Ericsson pull their finger out and iron out the blips
Conclusion
A fantastic phone and well worth the money. Sony Ericsson should really do some prolonged software product testing though before launching phones or has Bill Gates gone to work for them since retiring from Microsoft?
Verdict5
(out of 5)
---
Feel free to write a short review of this phone model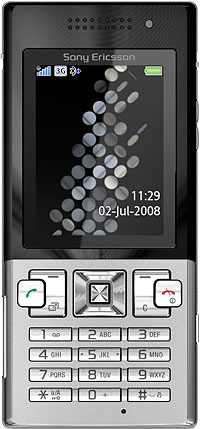 Compare this phone with:
We have done our best to provide you the correct technical specifications for the Sony Ericsson T700. Please
let us know
if you find any errors.
Back to phone list