Buy a Coke With Your Phone
24 August 2004 by axxxr
Coca-Cola has developed a new Cmode automatic vending machine (Cmo2) as a next-generation automatic vending machine that supports NTT DoCoMo Inc's FeliCa-enabled mobile phones.
The Cmo2 is an advanced version of Coca-Cola's first Cmode vending machine (Cmo), which enables cashless purchasing of Coca-Cola products by nearing an i-mode mobile phone to the vending machine.

The Cmo2 has added an interface that supports a contactless IC chip "i-mode FeliCa" in a DoCoMo mobile phone. The Cmo, its predecessor type, supports two-dimensional bar code and infrared communication.

Coca-Cola System will start installing the new machines from September 2004.

The Cmo2 can offer more convenience for the purchaser to obtain a product by a shortened delivery from selecting the merchandise, settling the payment to receiving the merchandise in 0.5 seconds. The purchaser can also play video game after the purchase using the LCD on the vending machine.

With the new vending machine, the machine owner can set automatic discount sales during any designated time hours, automatic notification function when the products are sold out, the machine goes out of order, and so on. This will provide the owners with high added-value, the company explained.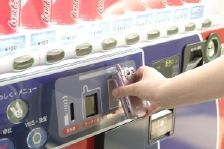 Via:neasia.nikkeibp.com

---