6 megapixel chips for mobile phones announced
14 May 2004
Qualcomm, a mobile phone technology provider, today announced the Convergence Platform – three chipset solutions that address all major 3G air interfaces – to incorporate popular digital electronics functionalities into wireless devices.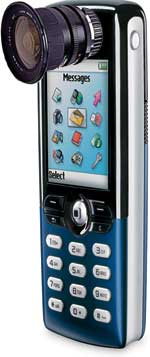 Illustration image
Converged wireless devices powered by Qualcomm's new chipset platform will extend usage time to allow consumers to play the latest 3D online games, stay in touch with friends through instantaneous picture and video mail, capture live video of vacation memories, keep on track with interactive GPS and listen to MP3 tunes, as well as maintain contact with the office. Enterprise users can increase productivity with high-resolution functionality for wireless PC synchronization, file attachment viewing and editing, advanced security and more, acting as a wireless office.
The Convergence Platform inspires new and creative "always with you" devices - morphing wireless communications into popular consumer electronics products:
Up to 6.0 megapixel digital camera support and image processing
VGA 30 fps (frames per second) digital VGA video record and playback
4M triangles per second 3D graphics acceleration
High-fidelity digital stereo audio record and playback
Imaging, video and graphics-enhanced location-based services with gpsOne™ technology
VGA resolution color LCDs
Standard TV-interface to view images, watch video or play games
Integrated serial Mobile Display Digital Interface (MDDI) for optimized communication between the MSM and the LCD panel
The interesting part here is the six million pixels quality. This would compete even with the latest dedicated digital camera devices available. The 30 frames per second video recording in VGA (640x480) mode are close to TV quality on NTSC (720x576 pixels, 30 fps).
---