---
Posted by
tranced
At
BGR
was posted an entry suggesting a new update for Google's KitKat Android version. As of now they got the unofficial Android 4.4.3 changelog. These are some good fixes over the 4.4.2 version. The leak was spotted in a Nexus 5 and a Nexus 7.
The changelog looks like this:
frequent data connection dropout fix

mm-qcamera-daemon crash and optimization fixes

camera focus in regular and HDR modes fixes

Power Manager display wakelock fix

multiple Bluetooth fixes

fix for a random reboot

app shortcuts sometimes got removed from launcher after update

USB debugging security fix

app shortcuts security fix

Wi-Fi auto-connect fix

other camera fixes

MMS, Email/Exchange, Calendar, People/Dialer/Contacts, DSP, IPv6, VPN fixes

stuck in activation screen fix

missed call LED fix

subtitle fixes

data usage graph fix

Internet telephony fix

FCC compliance fix

miscellaneous fixes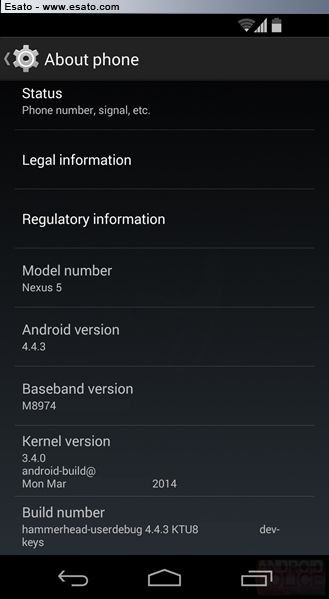 ---
Posted by
Bonovox
I can't keep up I thought 4.4.3 was already out

---
Posted by
tranced
4.3 was.