---
Posted by
laffen
The Galaxy S III is now available for pre-order for £500 in the UK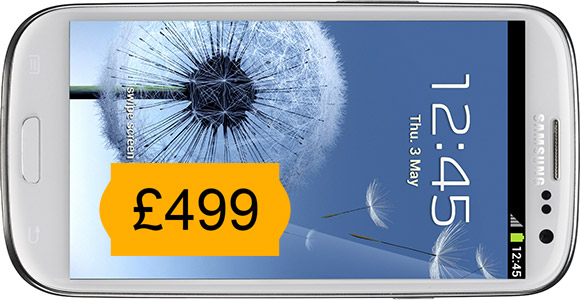 Esato News
---
---
Posted by
Miss UK
Wow do all phones cost this nowadays
Or is it just the most popular ones lol
---
Posted by
Bonovox
No iPhones cost more
---
Posted by
Miss UK
with the iPhones its dependant on the Size of memory hence the price
they all do the same and look the same

the 64GB is the most expensive one £699.99 but the 16GB is the £499.99 one same as any min Smartphone
---
Posted by
rikken
The S II has dropped more than £ 100 since its launch a year ago. What about the iPhone ? The S III will drop in price as months go by, what about the iPhone ?
---
Posted by
Miss UK
Apple tend to drop prices when there
New devices show up so I expect the 4S
To come down I guess when the next iPhone
Appears

The worst phone that devalues quick was
That HTC Sensation I thought !
Don't know about Samsungs cos ive never
Liked the Design of the S2 and the S3
The S1 was good though a lot nicer then 2 and 3

---
Posted by
Bonovox
Iphone never comes down in price
[ This Message was edited by: Bonovox on 2012-06-09 01:44 ]
---
Posted by
Miss UK
Galaxy the First was simply the best one from what I saw of it design was really nice
and well everything else on it seemed my cup of tea I didn't have much cash at the time it cameout
so I missed out on it

not seen a live Galaxy 3 but im not exactly liking jumping around at the look at it either