---
Posted by
Zed@CPS
New software release by CellPhoneSoft!
BigBen
is a clock utility with many extras, like alternative screensaver, phone lock, event reminders, and hourly chime. The clock is huge so you can start using your locked phone as a replacement for your wrist-watch. The appearance and behavior of the application can be fully customized.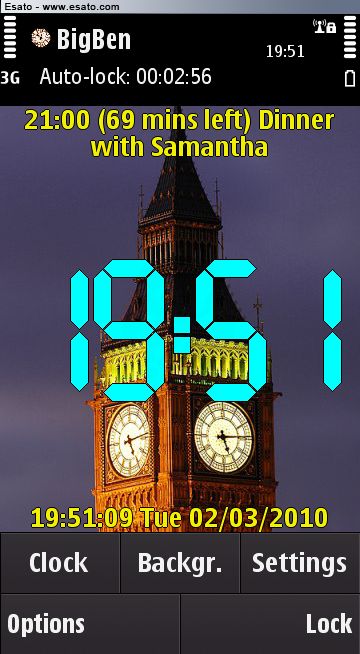 Major features:
- Combined screensaver, key lock and reminder application.
- Large digital and analog clocks easily seen from a distance.
- Selection of various backgrounds and colors.
- Key lock triggered manually, by idle time, and by other events.
- Visible and audible reminders for missed calls, alarms and messages.
- Hourly chime with selectable sound.
BigBen is compatible with all S60 phones, including those by Sony Ericsson. The software can be downloaded from
CellPhoneSoft
and various resellers. Free trial is available. Feedback is welcome!
---
---
Posted by
Zed@CPS
I would be grateful for some feedback about how BigBen works on the Satio or Vivaz, as we could not extensively test the software on these phones. One known issue exists: the transparent background type of BigBen is disabled, due to an incompatibility with the SE standby screen. Thanks!
---
Posted by
Zed@CPS
BigBen, the multi-functional lock+clock+reminder application, has been updated to
version 1.20
. The new software features various enhancements for optimum performance, and contains many bug-fixes for smooth operation. Upgrade is free for registered users. Free trial is also available for everyone.
---
Posted by
fairen
This is exactly what I need as I tend to always forget things.